The best ways to wear coloured jeans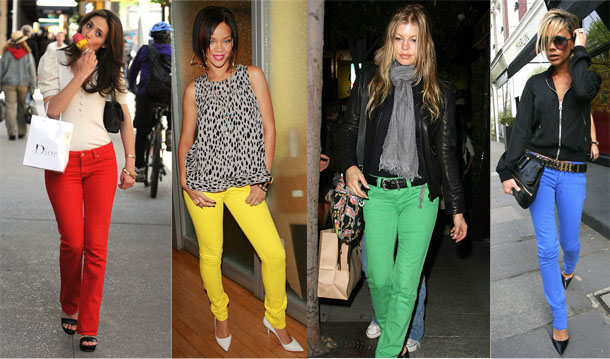 The coloured-jeans trend has spread like wildfire, if you must buy one hot trend, make it a pair of coloured jeans. From pastels to floras with every conceivable shade in-between, every shop on the high street is offering their take on coloured denim so you're spoilt for choice. All you need to do is to find a good pair that flatters your body type and team it up with right with clothing and accessories. And now we are going to look how you can wear your coloured jeans these seasons.
Try It with a Neutral
You can never go wrong when pairing any coloured (or patterned!) pair of pants with a black, white, cream, brown, or tan top. Any pair of bright jeans would look awesome with a white button-down dress shirt, a sheer black silk shirt, or a cream-colored cardigan sweater. This technique is a good way to feel out your new pants and ease into wearing them. Don't be afraid to add a few bold accessories, like a snakeskin bag and turquoise jewellery. Finish with a pair of fun wedges and you're good to go! Here is an example of colour jean with neutral:

Colour block
Colourblocking – which means pairing solid-coloured, bright pieces together – has been such a hot trend over the past few seasons. It's a bold style move for sure. But so long as you pair your coloured jeans with another solid, bold colour, you'll look trendy and fun, not clash-y. When colourblocking, I think it looks the coolest when you combine pastels with other pastels, and bolder colours with other bolds. Finish the look with classic accessories, like pearl stud earrings and a classic investment timepiece. Here is an example:
Pair It with a Print
Another fun way to rock your coloured jeans is to pair them with a bold print. Polka dots, nautical stripes, floral prints, and geometric prints would all look really trendy and playful! Again, keep your accessories somewhat simple — crystal earrings and a mint coloured bangle will look fancy, but not over-the-top. Finish with ballet flats and some pink lipstick for extra brightness!
Add a Springtime Jacket
The sun might be up and the sky might be blue, but for most of us, May and June weather can be unexpectedly chilly. A great way to wear your coloured jeans during this transition time is to pair them with a light jacket. A jean jacket, light trench coat, cardigan, or blazer will look season-appropriate, and keep you protected from harsh winds or colds.