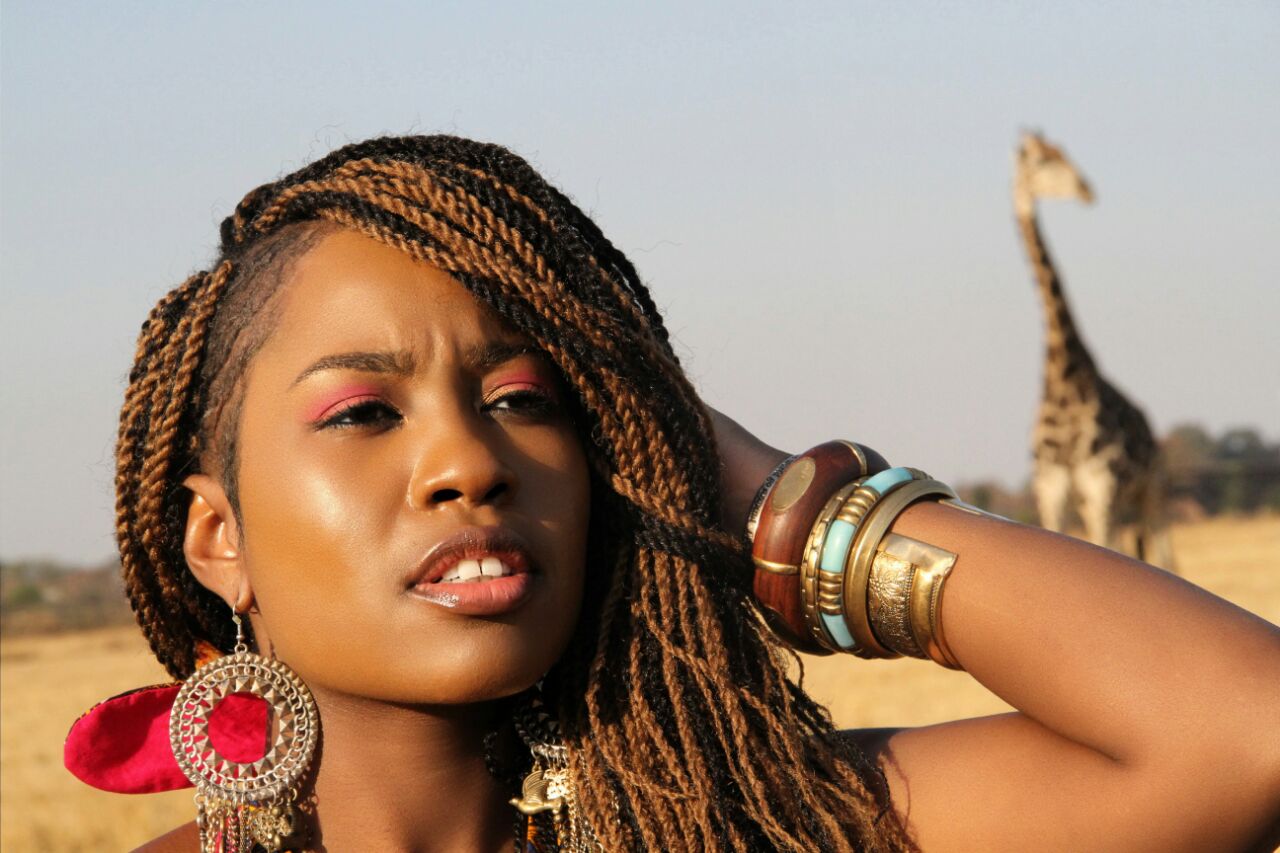 We had the opportunity to interview the ever bubbly and gorgeous Zimbabwean songbird Cynthia Mare. Here's what she had to say about the Zimbabwean music industry, making music and find out who she's dating.

Q: Describe Cynthia Mare in 4 words?
A: Bubbly, chatty, caring, sensitive
Q: Where did you grow up? What was your childhood like?
A: In many places, but mainly between Harare and Bindura, then I moved to UK when I was 16.
Q: How were you feeling recording the album "Songs for my mother"?
 A: It was a very emotional and painful time for me. I had just lost my mother, Enita Charewa to cancer. I wanted to put every emotion into the music. I was doing the album for her , to remember her always. I met Joseph Madziyire of ZimPraise Choir and he produced Hatina Musha, Mwari Muri Zuva, Zuva Rimwe, and Ndoda Mwari. Later on Mono Clive Mukundu produced Pfugama Unamate, Ndokutenda Sei, Ndichakurangarira, and Catch Me When I fall Feat Tytan. Every song is very important on this album, its about remembering mom.

Q: Having shared the stage with legends like Oliver Mtukudzi and Sean Paul, can you tell us how these experiences have helped you grow as an artist?
A: Its always good to share stages with huge artists, its inspiring. I remember seeing how much people respect Tuku and how they love to see him perform and I said to myself, I want to achieve this, to do music for the people like Tuku does.
Q: Tell us about your last album and what inspired the body of work?
A: I'm currently working on my new album, its called Moto Ngaubvire. The first single from this album is of the same name, Moto Ngaubvire. I named it that because I want to empower myself to work hard to reach my goals and at the same time empower  and inspire others to do the same, through my music. Moto Ngaubvire means "keep your fire burning".
Q: Which producers are you working with?
A: So far I've worked with Mono Mukundu, Joseph Madziyire and Humprey Domboka
Q: What was the process of finding yourself as an artist like? What were the most critical experiences that catapulted you to becoming the Cynthia Mare that we know today?
A: Its taken a lot for me to be who I am today but the biggest experirence that changed the direction of my life was losing my mother. Before she died I was living in UK, singing RnB but when I lost her everything changed. I now wanted to sing songs that touch people, songs like Zuva Rimwe, Pfugama Unamate, etc. The new album has more inspirational songs like Shinga, Natsa and Handidi Nhamo.
Q: Having worked in the U.K which has a more developed music industry, what steps do you think we need to take to be able to create a more financially viable industry for our artists?
A: The truth is we have a lot of work to do and a very long way to go. We can start by appreciating ourselves as we are, as Zimbabweans, stop looking down on ourselves. If we start supporting each other we can build our industry and take it to greater heights. As musicians we also need to up our game, be original, work on getting out there more and work improve the quality of our recordings. Then the issue of piracy needs to be addressed and challenged.

Q: Who are your top Zimbabwean you look up to?
Oliver Mtukudzi – Our Music Legend in Zimbabwe and beyond
Strive Masiiwa – Econet
Devine Ndhlukula – for being a great businesswoman
Q: Where do you see yourself in 5years?
A: As a successful international artist , touring and representing Zimbabwe everywhere I go.
Q: Are you in a relationship?
A: no!
Q: What do you look for in a life partner?
A: Someone who is honest, sincere, hardworking, loves and respects me.
Q: What do you do for fun?
A: Cinema, socialize and cooking
Q: What's your favorite place to hang out in Harare?
A: Home
Q: What music are you listening to now?
A: Emilie Sande
Q: What is your dream car?
A: Bently
Q: Who is your Zimbabwean celeb crush?
A: Hahaha I don't have one
Q: Any words of wisdom for the youth of Zimbabwe?
A: Believe in yourself. Don't allow anyone to tell you you're not good enough. Work very hard for your dreams, do everything it takes to make it, practice your craft more than anyone and keep your fire burning #motongaubvire
Q: Where can your fans reach you?
Facebook/cynthiamaremusic
Twitter/cynthiamare
Instagram/cynthiamare
Watsapp +263771008095