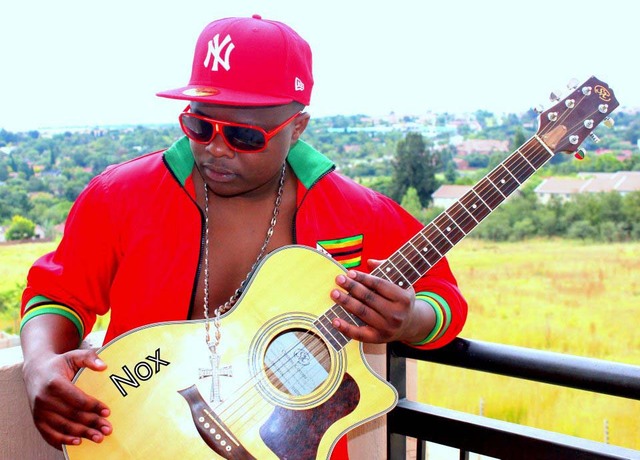 Nox has been producing hits after hits since his debut with the hit "Maria". He has managed to stay relevant with the new and old generation over the years. We got a chance to talk to him about where he is now as an artist after many years in the industry. Check the interview out below.

Q: 8 albums in, how do you best describe Nox today?
A: Nox is an African Urban Contemporary artist. I've evolved over the years and now I have found the winning formula after a decade of trying out different sounds.
Q: Where did you grow up and what was your childhood like?
I grew up in Kuwadzana 4. I was a very naughty boy growing up, I could say I was the naughtiest in the family. Used to get smacks from my dad on a regular for misbehaving. I have always had a passion for music, not just music, but good music. I went to Kuwadzana 2 Primary School, then Ellis Robins Boys for my Secondary Education, Morgan High for my high school, and finally Midlands State University (MSU) for my Honors Degree in Marketing.
Q:When did you realize you wanted to pursue music full time?
A: I felt that for a long time, after working in Business Development for six years I decided to leave everything and do what I enjoy, my number one love…music!
Q: Do you write all the songs you record and perform or you have a designated writer?
A: I write and compose all my music. In fact I don't remember actually writing a song on paper…everything just comes when i get on the mic. I know its hard to understand, that's what happens with spiritual gifts.
Q: Explain the concept of your music, where do you draw your inspiration from?
A: I am not a big fan of defining music as this has a tendency of limiting creativity, but for you to understand, I make music that I enjoy, to start with. Most of the time what I enjoy almost always gets people's attention and admiration.
Q: How do you prepare for your shows?
A: Every show is different for a few reasons:
geography, clientelle profile, performance duration, theme of the event. Therefore because of this, you can not really have a standard performance. Just before I go on stage I keep to myself, and I pray to God so he gives me the strength to entertain the people to their satisfaction, and almost always it goes well. As long as The Most High is part of it.
Q: How is your music being received by the South African crowd?
A: I haven't actually started marketing my music to the South African market. I need to be ready first, I hate failure so I always market a project that I am 100% confident of. Therefore this new album I have coming out will be the first to be marketed all over Africa. Now is the time.

Q: You met Nicki Minaj in the Netherlands and you promised us a collaboration, how is that coming along?
A: I met her management in Canada and we had agreed to do the collabo, we produced the song, we did our part of the song and sent to them, but they had such a busy schedule and could not go into the studio by the time we compiled the new project. God willing, It will happen as I believe everything happens for a reason. We went on to complete the song alone and the song is called ICU, its on the new album which we titled Africa's Best.
Q: Ndinonyara was an International hit, why do you think the video never made it on Channel O, Mtv Base or Trace?
A: Well there is a lot of dynamics that people need to understand. Firstly, Channel O is under Multichoice, which is a business entity. The biggest number of subscribers for DSTV are Nigeria and South Africa, mainly because of the economy and how big these countries are [in terms of the physical number of people]. Zimbabwe has only about 250 000 DSTV subscribers, which is a very small percentage, so the reason why most of the stuff you see on Channel O and MTV is either Naija or from SA is very simple and crystal. It's just business.
Q: Are you signing new artists on your record label, Ice And Roses.
For now we are not signing any new artists, we need to grow as a label first before we start getting more talent on board. So far we have about 4 signed artists and we are still trying to push their projects. These are Tyfah Guni, Ice3 [an all female band], Junior Spice and Riley [One of the most prolific rappers to be unveiled soon].
Q: What do you think of our local music scene right now?
A: We are in the right direction, we need to concentrate more on quality of sound and quality videos as well. We also need to be very original, as long as we say this is our sound and it still sounds like a sound from another country then our growth will be stagnant. Nothing ever beats original, no matter which angle you are look at it from.
Who is your inspiration?
A: I don't have a specific person who inspires me. People inspire…I sing about what people go through, I sing reality and I make sure my music is family friendly.
Q: What do you do for fun?
A: I spend most of my time in the studio, that's really what i do for fun. i do watch movies in the house sometimes. and i also enjoy watching international music channels just so i have an idea of how music is evolving out there, and try as much as possible to remain relevant, especially now that we are venturing into the international market
Q: What are your top 5 places to hangout in Harare?
A: Well in Harare I'm always at Sphinx, Motor Action Sports Club, 1+1, Mereki and Lake sometimes
Q: What do you look for in a life partner?
A: My life partner has to have a good heart. She has to reflect me in a way. She has to understand me and what I do and try not to be jealousy as the biggest percentage of my fan base are female.

Q: Are you seeing anyone?
A: Yes i am in a very committed relationship and we are actually planning on taking the relationship to another level. when it happens you will all know. by the end of this year…its long overdue now.
Q: Who are your Top 5 Zim Urban musicians?
1. Alick Macheso
2. Freeman
3. Trevor Dongo
4. Souljah Love
5. Tyfah Guni [when you get to know what he does you will understand]
Q: Any words of wisdom to the youth of Zimbabwe?
A: Seek ye first the kingdom of God and everything else will be added unto you.
Q: Where can your fans reach you?
Guninox@gmail.com
Twitter: @nox_official_
Instagram: NoxGuni