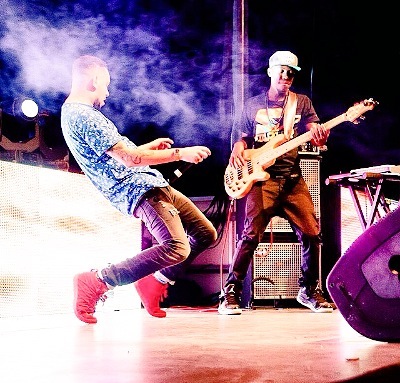 Tendai Shoko is making waves as a guitarist in South Africa. The road has been smooth as his keys but Shoxxx as he's known has now established himself as one of the best guitarists in South Africa, having worked with the likes of Judith Sephuma, Da Les and AKA to name just a few. Check out the inspirational interview below.

Q: How would you best describe Shoxx?
A: Shoxx is a spontaneous, fun guy who was born in the year 1990 in Bulawayo. I spent most of my life there, all through to high school. I could say I grew up okay, though we were not as privileged as other families but I grew up having my whole family around me.
Q: How and why did you first pick up the guitar?
A: As I was growing up I was really confused in what I wanted to be. I was a good athlete & I'd often dream of being a sportsman, either soccer or in basketball, that was until I picked the guitar up. From when I was about 10 years old, I developed the love for music. At the time I was playing marimbas (traditional African instrument) . I only got to the bass when I was 16,late bloomer I guess, but then I had the basic music understanding & knowledge foe the experience of the marimbas.. There was something about how the bass guitar carried the band, the groove putting everyone else in sync which drew me to it.. Even in the marimba bands I'd play for, I would play the bass section hence it was easy to be drawn towards the bass guitar.
Q: Who were your main early influences?
A: When I started on the guitar my influences were mainly from the American style of gospel mostly, whereas now my influences are broader.. If it sounds good & resonates with my space, energy, soul then it'll influence me. From jazz, African, hip hop, anything really.. Life in itself, everything around me, the world, people, family & the appreciation for what I do inspire me to keep at it.
Q: Do you have a name for your guitars, like B.B. King's Lucille?
A: Lol well I got two guitars & what we call Synth Bass/key bass/moog bass.. So my guitars' names are "sky" (my favorite,Lakland), then there's "bob" (ibanez BTB prestige) & for my synth "mancane"(korg synthesizer).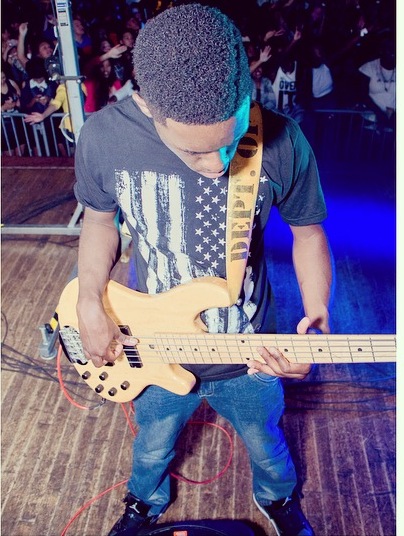 Q: What was your journey like becoming a professional musician, playing gigs and reaching out to other artists?
I ventured out as a musician when I was 19years old to play professionally. That is when I decided to move to South Africa in 2009. The journey has been really tough. When I got to South Africa I noticed there were so many people chasing the same dream, of wanting to be on stage, performing. I had been doing the small gigs, weddings, worship nights at different churches & pubs/tarvens. Only in 2012 when a band I was playing with in the Vaal, Vereeniging connected me to one of SA's top gospel music directors' Mbusi Madondo who then asked me to play for a SAMA award winning gospel group "Redeemed."
From there I was exposed to a lot more people & other musicians who would then refer me to other artists. At that point I had met Tazzy, producer of Muzart. We had hit it off from the first day we met & I started playing with them & word was getting around of a new bass player in the game.
Q: Besides Aka who have/do you work with?
A: I've had the privilege to work with a lot of artist in all genres.. Though my gigs sometimes clash but I still continue to work with these artists; Da LES, Muzart, Sfiso Ncwane, Judith Sephuma, Brian Temba, Swazi Dhlamini, A New Song, Luyanda Madope, Connecting Generations, ProKid.
Q: How did you start working with Aka? How did that relationship come to be?
Tazzy is one of AKA's producers, he produced the hit track "congratulate"..I had always been a fan of AKA & I knew if I really wanted my name & brand to be out there I'd have to get an artist if his magnitude. Tazzy had also worked on "Kontrol" so one day at his studio I started jamming to it. He enjoyed how I was interpreting it then he shot a video, posted it on instagram & twitter.
After a few months I ran into AKA's musical director MasterAFlat only to find he had watched that video. He took my number & in July 2014 I was called in for a rehearsal with AKA & Da LES for a show in Swaziland.. I remember in the rehearsal as soon as we got to Kontrol i played so hard, Kiernan stopped the song & he was like you not going anywhere, you staying here in this crew & since then our relationship has grown & I've been part of the A-Team & Levels family.
Q: Which players should guitarists study and learn their licks from?
As my musical ear continues to grow, my understanding of other bass players has grown as well.. I listen to a number of bass players, Derrick Hodge, Darelle Freeman, Thaddeus Johnson just to mention a few..My influence & style of licks are derived from mainly those 3 dudes.
Q: Any tips you can share with musicians out there?
A: Tip: 20% of your talent only counts for you to make it. Your character is what will get you there. When you on time for rehearsals, make sure you learn the artists' music & executing it well.

Q: Musically what can you do besides playing the guitar?
A: Besides the guitar I play marimbas & piano.
Q: What do you do for fun?
A: My job in itself is fun so I do that mostly lol but I do make time to hang around & go out with my friends.
Q: Where do you enjoy hanging out when you are back home in Bulawayo?
A: When I'm back home I don't go out much. I'm always trying to make sure I see everyone in my family & to catch up with my high school friends.
Q: Who is your celebrity crush?
A: Hahaha my celebrity crush is Paige Hurd
Q: Where do you see yourself in 5 years?
A: In 5 years I want to be an internationally recognized bass player where artists from all over the world book me for sessions & I still want to be playing & having fun doing it..besides that I want to be settled, married even.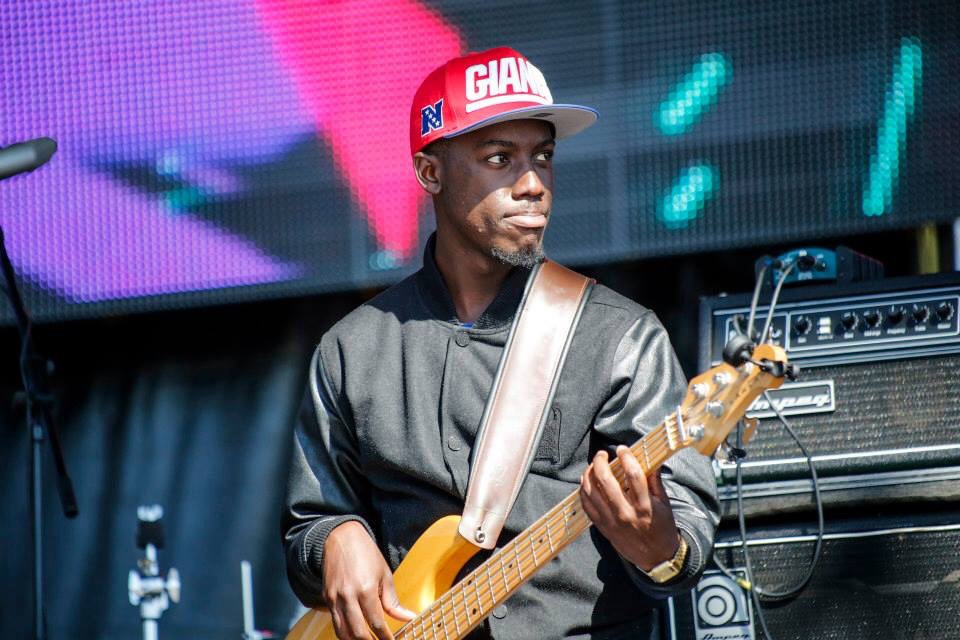 Q: What do you look for in a life partner?
A: In this day & age it's hard to find a life partner, especially in the space I'm in.. Girls wanting to be famous & throwing themselves so they can be part of the lifestyle.. For me respect goes a long way, the little things like how you carry yourself & if you know what you want in life is what gets me.
Q: Who are you Top 5 local musicians?
5: Winky D
4: Africa Revenge
3: Aleck Macheso
2: Asaph
1: Oliver Mtukudzi
Q: Any words of wisdom to the youth of Zim?
A: I'd really urge the youth in Zim that there's no limit to what you can do in life. I believe God has blessed us with different gifts & talents. We need to tap into that & do what we supposed to & that will bring us joy.
"There are two important days in life, the day you are born & the day you discover why you were born.." Mark Twaiin
Q: Where can your fans reach you?
A: Fans & those who appreciate what I do can find me ;
Facebook : Tendai 'Shoxx' Shoko
Twitter      : shoxx_on_bass
Instagram : shoxxonbass