Opportunity For Zimbabwean Youth:Innovation Prize For Africa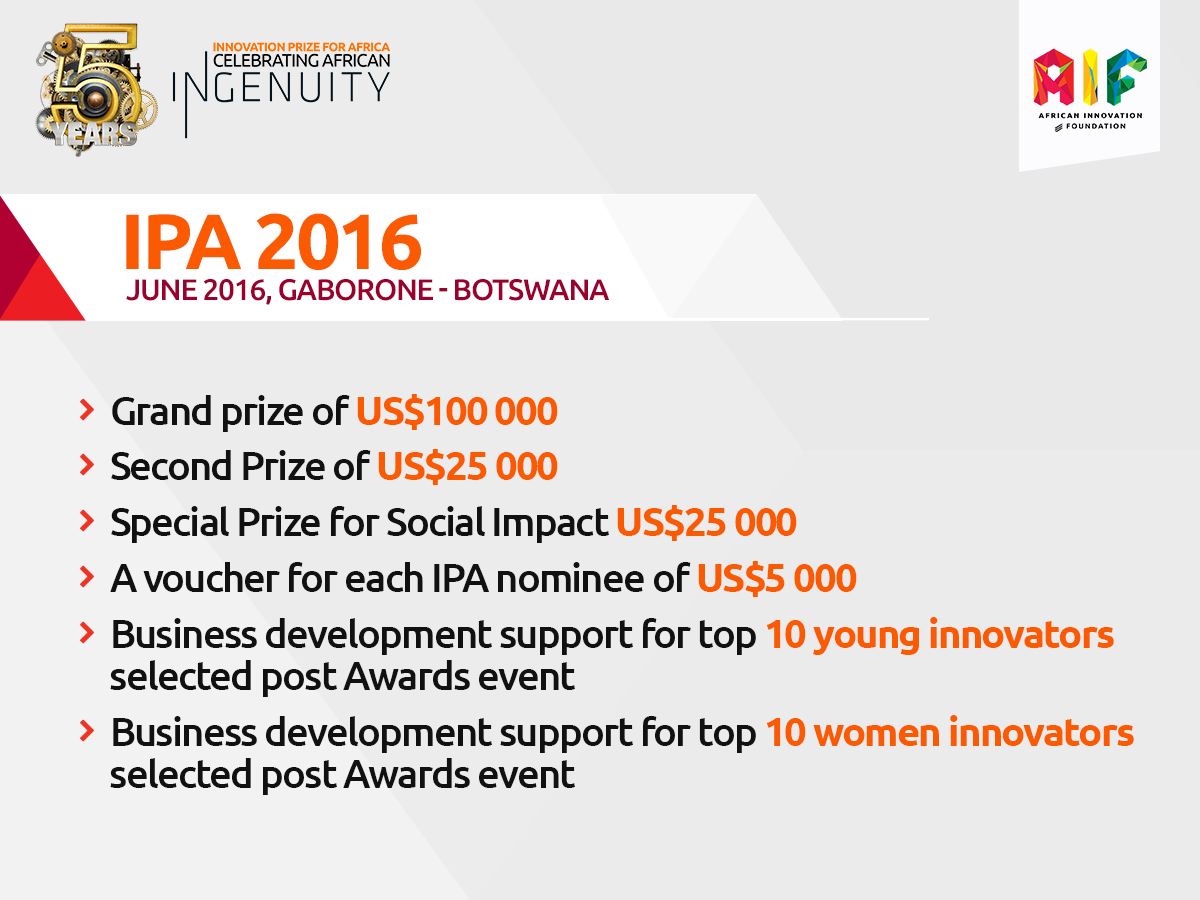 IPA Celebrates Five Years of Made in Africa: Bigger, Better, Rocking Inspiration!

The African Innovation Foundation (AIF) will in June this year host its flagship program, the Innovation Prize for Africa (IPA) awards ceremony in Gaborone, Botswana. At IPA, we believe that innovation is a key driver of African economic growth and progress; it contributes to building a better continent through providing locally generated solutions as well as creating new jobs.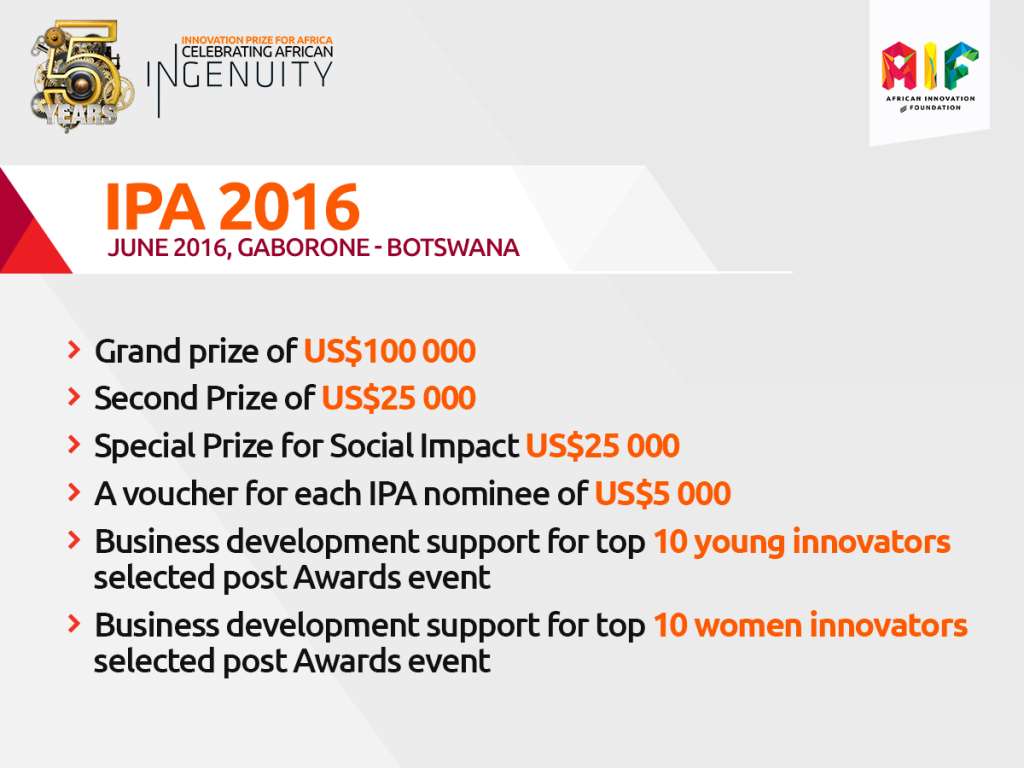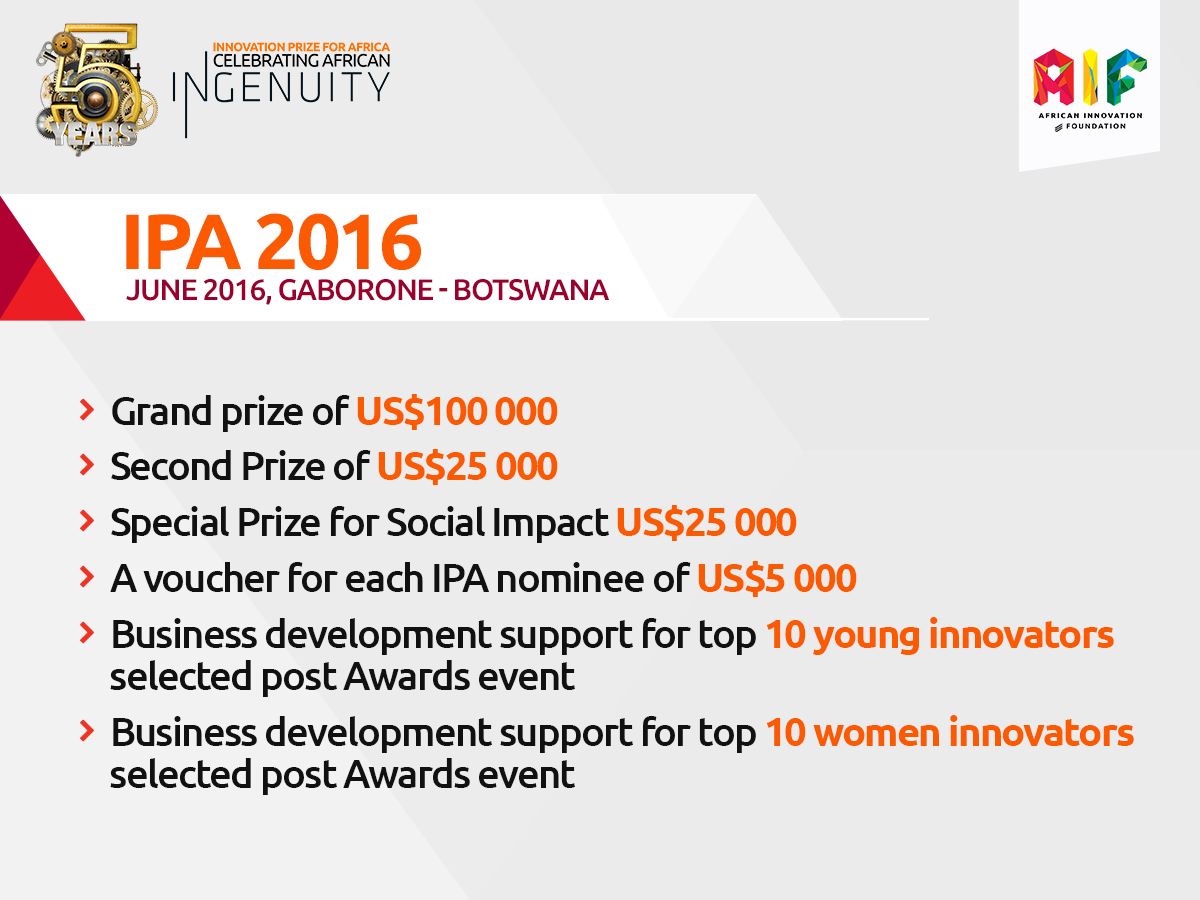 IPA, Africa's premier initiative that promotes and rewards ground-breaking innovations, has come a long way since its inaugural launch in 2012. This year, besides the US$150 000 grand prize, there is lots more to offer in terms of incentives, with a special focus on young people and women, fostering a spirit of innovation in Africa.

IPA aims to recognize game changing innovations by Africans that reflect social impact, marketability, scalability and business viability. We at AIF firmly believe that innovation-driven growth is fundamental to Africa's growth and development.
In light of this, the award aims to recognise and celebrates innovators' efforts who have embraced the many challenges to create high impact, world class innovations which address real challenges in Africa. We recognize innovators who are willing to change the status quo – to transform ideas into powerful impact – even willing to take risks to make that change happen under very difficult circumstances.
IPA presents a real opportunity for African innovators to unleash their potential. We invest in great ideas and the people who power them. With each edition of the IPA is the core idea to push the envelope of what African innovators can achieve with the ultimate goal of leapfrogging innovation that can transform Africa from the bottom-up.
Every year, we challenge innovators from across the continent to enter the prize without holding back. We seek to inspire innovators to think bigger while at the same time providing solution to real challenges.
The IPA honors and supports innovators that can make great things happen. Winners receive a package of recognitions that is aimed at assisting them to take their innovations to a whole new level both continentally and globally.
Comments
comments