Apply: YouthActionNet Laureate Global Fellowship 2017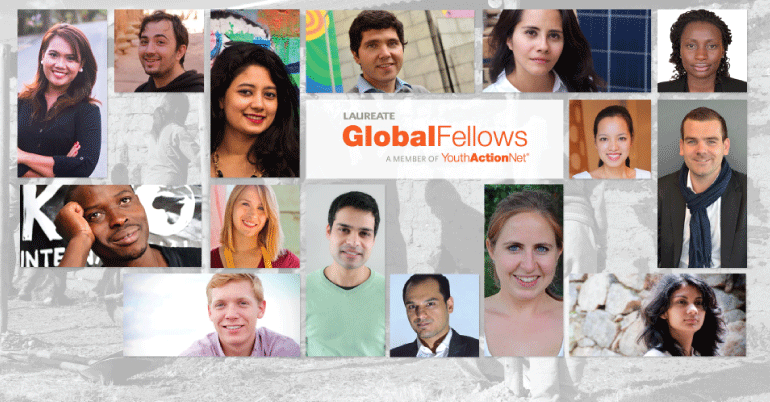 The Laureate Global Fellowship is a pioneering youth social entrepreneurship program working to redefine how young people lead change.
Sponsored by Laureate International Universities, the Laureate Global Fellowship annually recognizes 20 young leaders who have pioneered solutions to urgent challenges in their communities and beyond. Fellows develop leadership expertise and deepen their impact through a dynamic, yearlong learning experience, and join a network of nearly 1500 changemakers like them who continue to benefit from learning opportunities and connections throughout their social change careers.
Benefits
While the fellowship kicks off with an intensive in-person experience, it is the lasting support, resources, and network of nearly 1500 like-minded leaders that come to define what the fellowship means to young leaders.
Young social entrepreneurs need support in three key areas order to increase their impact which is incorporated in in effective fellowship experience:
Building leadership and management skills
Growing networks and gaining access to resources
Increasing the credibility and visibility of their work
Some other benefits include
In-person Retreat: Laureate Global Fellows begin their fellowship experience at a week-long, in-person retreat where they are challenged to step away from the demands of daily work in order to see themselves, their work, and the world with new eyes.
Yearlong Support: Over the course of the fellowship year, fellows gain access to opportunities for needs-based personal and organizational development, including:
One-on-one coaching and individualized support
Virtual learning sessions
Personal and organizational assessments
Peer coaching groups
Eligibilities
18 – 29 years old as of October 1, 2017
Founders or co-founders of existing ventures with at least one year of impact*
Fluent in English (applications must be completed in English)
*Applicants must be founder or co-founder of a venture that has not previously participated in the Laureate Global Fellowship, and only one co-founder per venture may apply.
Eligible Regions: Global
Application Process
Please apply through YouthActionNet's 2017 Laureate Global Fellowship Online Application. Before applying, be sure to read the full Terms & Conditions. While online applications are preferred, there is a Microsoft Word version of the application for those who require it due to limited internet bandwidth
Application Deadline: March 6, 2017 (6 Days Remaining)