UNCCD COP13 Youth Forum 2017
The UNCCD secretariat invites all young people and youth organization representatives to apply to speak and participate in the international UNCCD Youth Forum at its 13th Conference of the Parties (COP 13). The theme this year is "land, youth and sustainability."
The Forum will be the platform for youth to: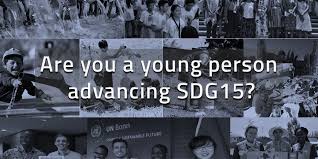 Voice their commitments toward achieving land degradation neutrality
Build their capacities and opportunities to work toward combating desertification, land degradation and drought
Share their experiences in combating desertification
Eligibility Requirements:
Applicants must:
be between 18 to 35 years of age;
be volunteers/ members for a civil society organization or network, academic institution, trade or technical institution or UN youth-related education program;
be authorized officially by their organization or network to speak on behalf of the organization or institution (providing a signed letter from head of organization or a supervisor)
have demonstrated ability to engage constructively with a variety of stakeholders;
be available to be in Ordos, China from 7-10 September 2017;
be able to communicate in English
Benefits:
Selected speakers and representatives will receive full funding of international travel, accommodation and daily allowance during the forum.
When: 8 – 10 September 2017 in Ordos, Inner Mongolia, China
Application Deadline: June 26th 2017
For more information on how to apply click here.