African Leadership Academy (ALA) 2018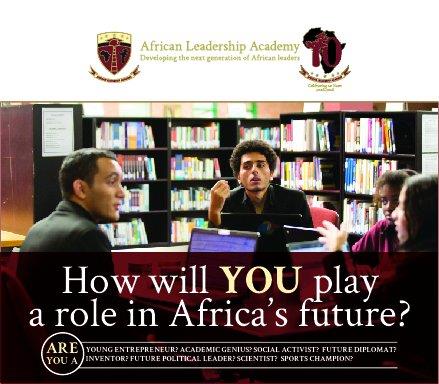 African Leadership Academy (ALA) seeks to transform Africa by developing a powerful network of over 6,000 leaders who will work together to address Africa's greatest challenges, achieve extraordinary social impact and accelerate the continent's growth. ALA identifies young leaders between the ages of 16-19 from across the continent with demonstrated leadership potential, a passion for Africa, an entrepreneurial spirit, and a track record of community service.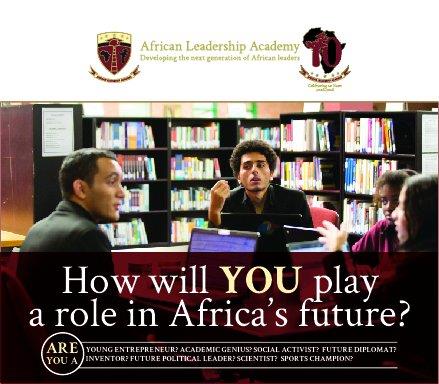 These young leaders are then brought together for a two-year pre-university program at our
world-class boarding institution in Johannesburg, South Africa. ALA continues to cultivate these leaders throughout their lives, in university and beyond, by providing on-going leadership training, supporting their growth through access to internships and careers, and connecting them to high-impact networks of people and capital that will empower them to create transformative change.
The Academy admits 125 young leaders from across Africa each year for the two-year pre-university program, anchored on Entrepreneurial Leadership, African Studies, and Writing & Rhetoric. Students also take Cambridge A'level subjects as electives, alongside specialized research classes in the Sciences, Humanities and Creative Arts.
The Academy is a boarding school; all students are accommodated and catered for at the Academy's campus in Honeydew, Johannesburg, South Africa for the duration of their studies.
REQUIREMENTS FOR ADMISSION
ALA searches for young leaders across the continent between the ages of 16 and 19. Please note that ALA's admissions team does not expect an applicant to be extraordinary in all five criteria; ALA seek students with a variety of interests, strengths, and backgrounds.
Application Deadline: October 31st 2017
For more information click here.