University of Cape Town MasterCard Foundation Scholars Program 2018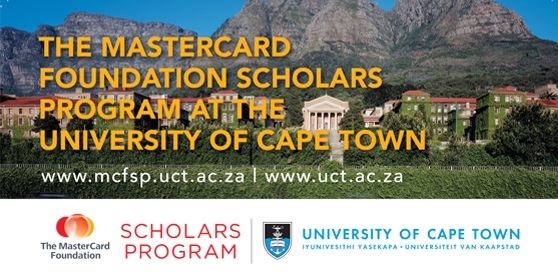 The Mastercard Foundation has partnered with the University of Cape Town (UCT) to provide 338 scholarships over 10 years to academically talented yet economically disadvantaged students from Sub-Saharan Africa for study at UCT.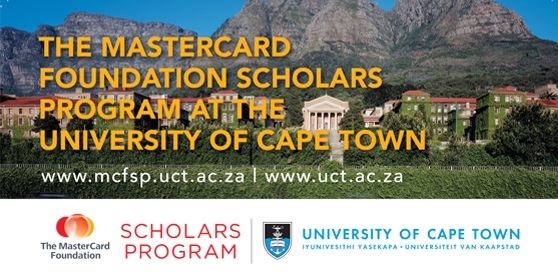 The Scholars Program is a $700 million initiative to educate young people – particularly from Africa – to lead change and make a positive social impact in their communities. Scholars will receive comprehensive scholarships, academic support, peer mentorship, career guidance, internship opportunities, transition-to-work support and access to a global alumni network.
Through the scholarship scholars may pursue undergraduate or postgraduate studies at the University of cape Town. Students enrolled in the program will receive mentoring, leadership development, academic and life skills support. For the 2018 academic year, 58 scholarship opportunities are available ( 13 Undergraduate, 15 Honours and 30 Masters)
Value of the Scholarships
The scholarships are considered to be full-cost and will include full cover for the following:
Visa costs
Transport costs to and from South Africa
Full tuition and international student fees
Full accommodation, subsistence and living expenses
Research costs as approved or recommended by UCT and the Foundation
Access to internship opportunities and cover of related costs
Medical aid
Undergraduates
Eligibility
To be eligible for consideration for The Mastercard Foundation Scholars Program at the University of Cape Town, applicants must meet the following criteria:
Target Group
Be a citizen of a Sub-Saharan African country
Be Honours study applicants
Be admitted to an Honours programme and commence with their first year of registration in any of the faculties at UCT
Be from an economically disadvantaged background and demonstrate financial need
Candidates who intend to register for a second postgraduate Honours degree are ineligible to apply for this scholarship
Application Deadline: 31 August 2017
For more information click here.