UNICAF Scholarships 2017/2018 to Study Online at University of South Wales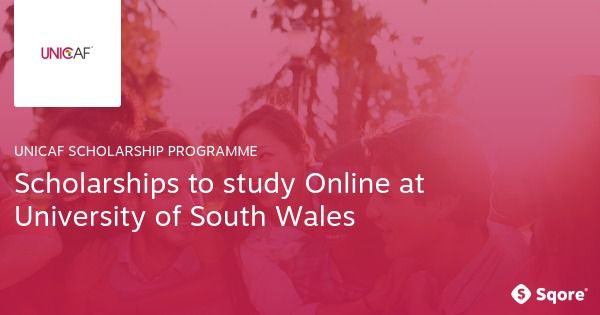 UNICAF has partnered with the University of South Wales to offer a variety of courses.
The UNICAF Scholarship Programme was founded to offer gifted, underprivileged students the opportunity to further their education, by earning internationally recognised qualifications, at low cost, through online study, or through blended learning (only available for Unicaf University programmes).
The University of South Wales is one of the largest in the UK, offering more opportunities and better prospects for students.
The partnership between the University of South Wales and UNICAF, brings together the resources and capabilities of both organisations to offer innovative learning solutions and programmes which are delivered fully online to the needs of a wide range of students and professionals.
The University of South Wales offers many exciting opportunities for undergraduate and postgraduate candidates to STUDY ONLINE for the following programmes of study:
BA (HONS) – Business Studies (Top-up degree)
MBA – Master of Business Administration
MA Education (Innovation in Learning and Teaching)
MSc in Psychology
LLM (Master of Laws)
MSc in Public Health*
*Subject to validation of online delivery
Prize
Several 50% up to 80% Scholarships to study the ONLINE programmes offered by University of South Wales.
The Scholarships will be awarded on a rolling basis, so don't wait to apply!
Scholarship Eligibility Criteria
Be earning less than 20,000 USD per year
Be available to commence their academic studies within 6 months from the date of receiving admission to one of the programmes offered
Meet the entry requirements of the respective programme of study
Application deadline: January 18, 2018
For more information visit here.