UCT GSB Bertha Center for Social Innovation and Entrepreneurship Scholarships 2017/2018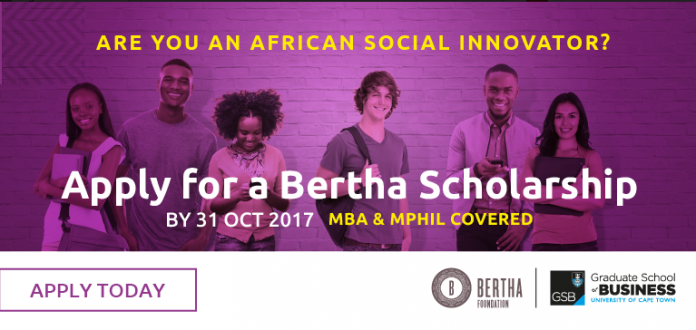 The University of Cape Town Graduate School of Business (UCT GSB) is offering scholarships to social innovators and entrepreneurs, who want to address our continent's urgent social, economic, environmental and humanitarian challenges.
The African continent is facing severe challenges; be it poverty alleviation, access to quality education and healthcare for all or fiscal pressures – but the continent is also filled with opportunities and excellence which needs to be learnt from and scaled.
With this background and context in mind the Bertha Centre for Social Innovation and Entrepreneurship, a specialised unit at the UCT Graduate School of Business, is pleased to be offering Africa's leading innovators, out-of-the-box thinkers, system-entrepreneurs, changemakers, graduates and social entrepreneurs and activists the opportunity to study at Africa's top business school, the UCT Graduate School of Business.
The Bertha Centre hopes that by attracting Africa's top talent to Africa's top business school, to study either the MBA or the Masters in Inclusive Innovation programmes they will be diversifying the student body at the GSB.
You are eligible for a Bertha Scholarship:
if you are an African citizen or permanent resident
if you have started or worked with a social/green/entrepreneurial innovative idea that seeks social or economic change
if you have worked on advancing social justice and pioneering inclusive opportunities through social innovation within an organisation
if you demonstrate strong leadership qualities within your field
if you meet the admission requirements of the university for your selected course of study.
Benefits:
The Bertha Scholarship covers full or partial costs of a wide variety of programmes at the UCT Graduate School of Business. These include the MBA (both full-time and the modular programme), the MPhil in Inclusive Innovation, and PhD programmes.