Yale Young African Scholars (YYAS) Program 2018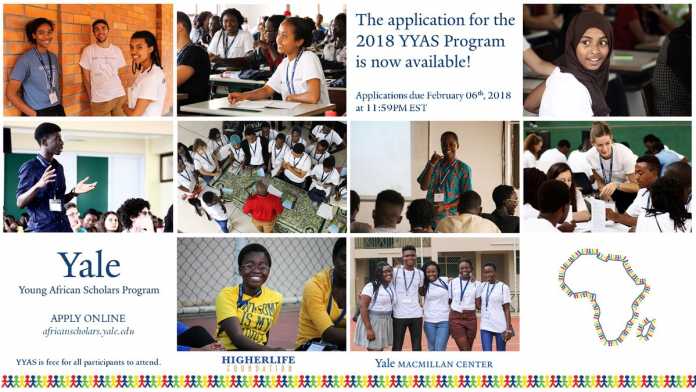 The application for the 2018 Yale Young African Scholars (YYAS) Program is now available! Entering its fifth year, this intensive program brings together African secondary school students between the ages of 14–18 for a cost-free, intensive academic and residential program. Next year YYAS will be held in two locations, Rwanda and Ghana, and take place between late July and end of August.
YYAS will admit a combined total of 300 students to the Yale Young African Scholars sessions taking place in 2018.
YYAS is the flagship program of the Yale Africa Initiative and is designed to introduce secondary school students to the demanding university and financial aid application processes and requirements, as well as to make higher education more accessible to Africa's most talented student leaders.
YYAS 2018 will be held in two locations:
Rwanda: 29 July – 07 August
Ghana: 11 August – 20 August
Eligibility Requirements:
Prospective applicants must be current secondary school students in Africa who will have to complete at least one full academic term after August 2018.
In addition, applicants must be citizens or permanent residents of an African country.
Selected participants will be self-starters who have an interest in pursuing post-secondary level education, are in excellent academic standing, and demonstrate leadership potential.
A typical YYAS participant has:
Excellent academic records
Demonstrated leadership potential
Strong written and verbal communication skills
A desire and ability to work cooperatively with peers
Persistence and determination when facing challenges
High standards of personal and professional conduct
The ability to read, analyze, and reflect on large quantities of difficult material in English
Interest in engaging in discussions about intellectual, moral, and political issues in Africa
Benefits:
To make the program accessible to students of all financial backgrounds, there is no cost for students to participate in YYAS.
Room and board will be provided for all students, along with three meals a day.
However, participants ARE responsible for getting themselves to the venue at the outset of the program and for their return home at the end of the program. Participants will also be responsible for any incidental expenses they elect to incur.
Students from low-income backgrounds who demonstrate financial need may apply for a limited number of travel grants offered by the program. If awarded, the grant will cover the cost of a roundtrip plane ticket between a student's home country and the program location. Students can only apply for travel assistance after they have received an offer of admission to YYAS.
While YYAS provides all students traveling internationally with complimentary airport pick up and drop off on the day of arrival and departure, participants—including travel grant recipients—must also arrange for their own transportation between their home and originating airport, and upon return.
Application Deadline: February 06, 2018
For more information click here.