2017 Zimdancehall Awards Nominees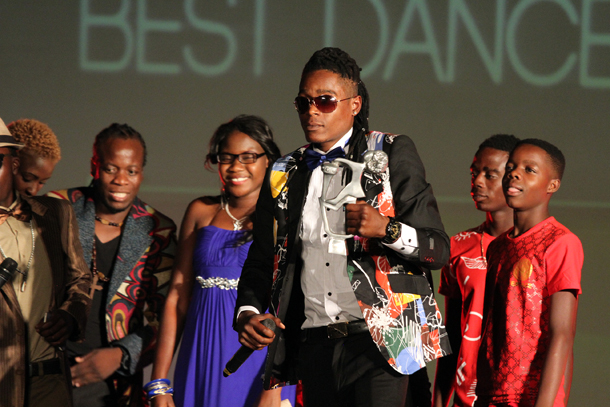 It's going to be the clash of the giants as the 2017 Zimdancehall Awards nominees are out. The announcement was made on the Zimdancehall 2017 Facebook page. The awards are scheduled to be held on December 29 at a venue to be announced. There are 34 categories and the public is being asked to start voting for their favourite nominees. The awards will be hosted by Oscar Pambuka Productions (OPP).
Check out the full nominees list below.
King of Zimdancehall
Seh Calaz
Soul Jah Luv
Winky D
Kinnah
Killar T
Queen of Zimdancehall
Kadija
Empress Massina
Xpatriot
Daruler
Lady Squanda
Best Male Vocalist
Kinnah
She Calaz
Calcious
Guspy Warrior
Freeman
Best Female Vocalist
Daruler
Lindsay
Xpatriot
Empress Massina
Kadija
Best Zimdancehall Producer
Levels
Marlon Tee
Tamuka
Equation
Solid Records
Tipe
Best Zimdancehall Emcee
Etherton Beenie
Abisha Palmer
Templeman
Merciless
Supa Yut
Best Dressed Male Artist
Freeman
Winky D
Seh Calaz
Kinnah
Soul Jah Love
Best Performer
Guspy Warrior
Dadza D
Kinnah
Seh Calaz
Winky D
Best Riddim
Unoripa Chillsport Records
Public Demand by AYAT
Stage Riddim
Ptk and Levels Riddim
Best Video Producer
SAP
Slimdoggzy
Skyrocket
Wustaf
Naiza Film
Young and Upcoming Male Artist
Blot
Hwindi President
Silent Killer
Jah Signal
Mad Kudasso
Best Zimdancehall Radio Station
Starfm
Powerfm
Zifm Stereo
Radio Zimbabwe
National fm
Diamond fm
Best Dressed Female Artist
Bounty Lisa
Empress Massina
CC
Daruler
Lindsay
Lipsy
The People's Choice Award
Hwindi President
Maggikal
Dadza D
Freeman
Guspy Warrior
Winky D
Seh Calaz
Kinnah
Killer T
Soul Jah Luv
Boom Bhetto
Silent Killer
Best Zimdancehall Reporter – Electronic Media
Lastword Musekiwa
Skimbo ziso regondo
Andrew Neshamba
Dj Tawastok
Best Zimdancehall Reporter- Print Media
Vasco Chaya
Brian Penny
Mthandazo Dube
Nyasha Kada
Best Zimdancehall Promoter
Chipaz
2 Kings
Bodyslam
Elder Shambare
Divine Assignment
Express En ( Vic Falls)
Best Zimdancehall Manager
Wadis rep Kinnah
Banda rep Winky D
Kudzai Biston rep Killer T
King George Seh Calaz
Sparks rep Lady Squanda
Skyrocket rep Lindsay.
Ras Jona rep Empress Massina
Zimdancehall Ambassador
Freeman
Killer T
Lady Squanda
Kinnah
Seh Calaz
Best Zimdancehall Club DJ
Gary B
DJ Cables
Fleva
2 Bad
Sir Ricardo
Dj Ribhe
Dj Mawaya
Best Zimdancehall Album
Hupenyu- Celcious
Top Striker- Freeman
Ndofirapo- Soul Jah Luv
Zunza mukwende- Empress Massina
Reality- Lady Squanda
Best Zimdancehall Collaboration
Freeman and Daruler- zvichangotanga
Killer T and Ex Q- nhema
Winky D and Buffalo- rugare
Empress Massina and Kinnah- tovatinha.
Dadza D and Scadda T- short remukati.
Boom Betto and Jah Signal- mairevei
Soul Jah Luv and T sweetness- ndabaiwa
Zimdancehall Song of the Year
Nhema- Killer T
Pamamonya- Soul Jah Luv
Mwana wa Stembeni- Soul Jah Luv
Rufu- Blot
Ndoripinda- Blot
Ma baby- Power Rasta.
Mastreets- Silent Killer
Mukwende- Empress Massina
Munondiripa- Bounty Lisa
Kana ndisipo- Kadija
Best Zimdancehall Riddim
Chillspot records- Unoripa
Chillspot records- Ndoripinda
PTK and Levels
T Man mount zion- No to women abuse
Marlon T- Downtown
MarlonT- Threat of the year.
Equation'- Guvhu dende
Tipe- Zimquality
Aya T and dj paxx- Chabata.
Solud records- True friends
Best Zimdancehall Clan
Fire Colloso
Tripple Spliffers
Vietnam Empire
Mabhanditi
Hot Property
Conquering family
Ma ninja
Royal family
HKD
Mafia 19
Best Zimdancehall Dance Group
Ghetto clarks- Chitown
Street madness
Unstoppable
Conquering
Desert fox
Best Zimdancehall Promoter (Outside Zim)
Don Carlo digital 1
Tai International
King Alfred
Fire sound crew
TDS vibes
Vicktacs
Cheesebouy Entertainment
Empress Tricia
Best Live Performer Female
Kadija
Fyah Lady
CC
Faceless
Empress Massina
Lady Squanda
Daruler
Lindsay
Lipsy
Lady B
Most Disciplined Zimdancehall Artist
Winky D
Kinnah
Dadza D
Guspy Warrior
Freeman
Killer T
Hwindi President
Cello Culture
Celcius
Best Zimdancehall Medley
Threat of the year – Marlon T
Unoripa- Chillspot records
No to women abuse- T man Mount Zion
Zim Quality- Tipe
Ndoripinda- Chillspot records
Best Zimdancehall Graphic Designer
Xool of Thots
Creative zone
Mugo mix and Kello
Nyamz graphics
Kanto Dem
Kush Carter
Sparkman
Best Zimdancehall Producer (Outside Harare and Chitungwiza)
CeKlear ( CeKlear Music Masvingo)
G Freshy
Rox ( Soundrave Gweru)
Hoodstar (Kwekwe)
Momula ( Momula records Chinhoyi)
Best Zimdancehall Artist (Outside Harare)
Fyah Lady( Mrehwa)
Legion ( Gweru)
Shotgun ( Gweru)
Killamani ( Kwekwe)
Markman ( Gweru)