ICIMOD PhotoHKH Contest 2017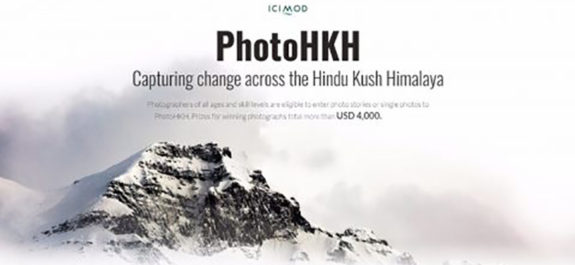 Capturing change across the Hindu Kush Himalaya.
With its vast reserves of snow and ice, the Hindu Kush Himalaya (HKH) source ten large Asian river systems that provide water and ecosystem services to more than 210 million people and supply water downstream to more than 1.3 billion people. The region's immense cultural and biological diversity provide livelihoods and sustenance across eight countries.
What happens in these mountains affects over one-fifth of the world's population.
Climate change, rising frequency and intensity of natural disasters like floods and droughts, and other challenges are increasing the vulnerability of mountain people to food shortages and extreme poverty. And as the vulnerability of mountain communities grows, migration abroad and to urban centers increases, often leaving women behind to manage the household and take on additional agricultural workloads. Building resilience is critical not just for the mountain communities, but also for Asia as a whole.
Through compelling stories and images, PhotoHKH aims to draw attention to the change happening in mountain areas of the Hindu Kush Himalaya and inspire action to protect this important resource and improve the lives of mountain people.
WORTH
Prizes for winning photographs are total more than USD 4,000
ELIGIBILITY
Eligibility criteria for presenters:
Photographers of all ages and skill levels are eligible to enter photo stories or single photos to PhotoHKH.
Participants can submit photos to two different contests.
Photo stories consisting of between 5-10 photos should be submitted to the ResilientHKH Photo Story Contest, and single photos should be submitted to the Mountains Under Pressure: International Mountain Day Photo Contest.
Each person may submit entries to both the photo story contest and single photo contest as follows:
– 1 photo story (consisting of 5-10 images and accompanying story of maximum 600 words) aligned with the following themes:
-Impacts of change
-Resilient solutions
-Down-stream connections
-Up to 3 single photos
-Impacts of climate change in the mountains
-Challenges of ensuring food and nutritional insecurity
-Migration away from mountains
Entries may have been taken from any camera, film (as scanned slides) or digital.
Entries must be digital black and white or color images, submitted in a .jpeg, or .jpg format, between 3 to 10 MB in size (300 dpi). Color images changed to black and white as well as scanned (digitized) images of non-digital photographs, negatives, or transparencies are also acceptable.
Minimal cropping is permitted. Minor adjustments, including dodging and burning, sharpening, contrast and slight color adjustments, are acceptable as long as the integrity of the original photo is not compromised.
Entries should be the work of the entrant, and he/she must own the copyrights. Entries that violate or infringe upon another person's rights, including but not limited to copyrights, are not eligible.
Entrants should retain high-resolution and RAW files, if applicable, of their submissions. In the event your submission is selected as a finalist or winner, you will be asked to submit a high-resolution image for printing and display, and, if applicable, a RAW image to check if adjustments made to the image comply with the rules.
DEADLINE: December 27, 2017
To apply and for more information visit here