Fulbright Teaching Excellence and Achievement Program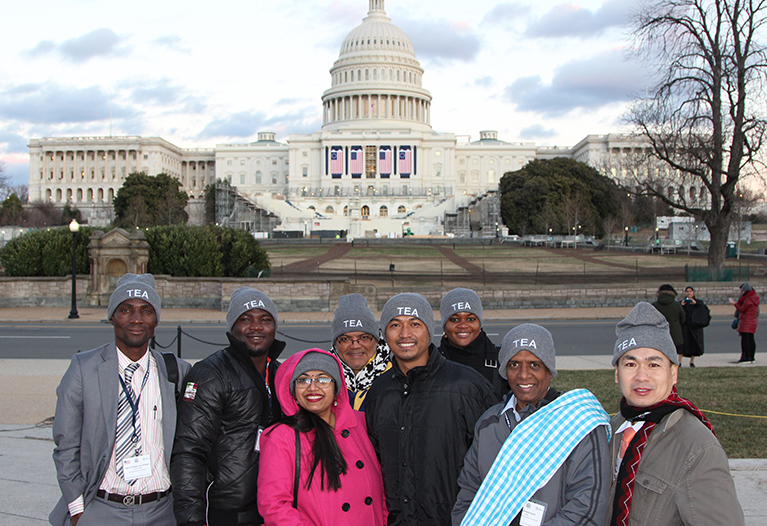 The Fulbright Teaching Excellence and Achievement Program (Fulbright TEA) brings international teachers to the United States for a six-week program that offers academic seminars for professional development at a host university. Participants observe classrooms and share their expertise with teachers and students at the host university and at local secondary schools.
The Fulbright Teaching Excellence and Achievement Program is a program of the U.S. Department of State's Bureau of Educational and Cultural Affairs (ECA), and is administered by IREX.
How to apply
Consult the list of eligibility requirements below and then use the following button to apply:
Who is eligible for Fulbright TEA?
Current secondary level, full-time teachers of English, English as a foreign language (EFL), math, science, or social studies, including special education teachers in those subjects at an institution serving primarily a local population
Five years of full-time teaching experience
Citizen and resident of participating Fulbright TEA country
Other requirements as indicated in the application
Applicants from the following countries are eligible:
Algeria
Argentina
Armenia
Azerbaijan
Bangladesh
Belarus
Bolivia
Burkina Faso
Burma
Cambodia
Cameroon
Chile
Colombia
Costa Rica
Cote d'Ivoire
Ecuador
Egypt
El Salvador
Estonia
Georgia
Ghana
Guatemala
Haiti
Honduras
India
Iraq
Jordan
Kazakhstan
Kyrgyzstan
Latvia
Lithuania
Malawi
Malaysia
Mali
Moldova
Mongolia
Mozambique
Nepal
Nicaragua
Nigeria
Panama
Peru
Russia
Rwanda
South Africa
Sri Lanka
Sudan
Tajikistan
Tanzania
Thailand
Tunisia
Turkey
Turkmenistan
Ukraine
Uruguay
Venezuela
Vietnam
West Bank/Gaza
Zambia
Zimbabwe
Read more about Fulbright TEA or contact fulbrighttea@irex.org.