Lumix Festival for Young Journalism Hannover 2018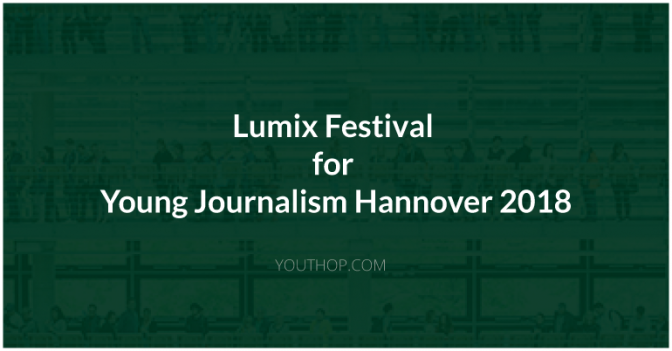 The LUMIX festival for young photojournalism testifies to the power of photojournalism in an image-oriented world. It shows images that communicate the life of humanity in all its facets and shape our perception of the world. Thus, it contributes to enlightenment and awareness, touches people emotionally and lets them take part.
Students and professional photojournalists from all over the world can apply to participate in the 6th Festival until the age of 35. 80 of them are invited to exhibit their pictures and multimedia projects. Portfolio sightings, lectures, podium discussions and a photo technology show offer a varied supporting program.
The highlights of every festival day are the evening lectures by internationally renowned photographers. The closing of the festival on Saturday will be the festival party as well as the presentation of the FREELENS Award, the LUMIX Multimedia Award, the Lammerhuber Award, the HAZ Audience Award and the Sustainability Award.
The festival is intended to be both a platform for discussion, a picture show and a forum for talent – for professional picture editors, trade visitors and anyone interested in photography.
Benefits
The prize money for FREELENS Award is € 10,000
There will be two honorable mentions each endowed with € 1,000.
Furthermore, the photobook publisher Lois Lammerhuber will award the best story from everyday life with the Lammerhuber Photography Award in the amount of € 5,000
Panasonic will award the best multimedia story with the LUMIX Multimedia Award, which is also worth €5,000.
Eligibilities
Applicants must be younger than 35 at the time of application.
Only the photographers themselves can submit their applications.
Eligible Regions: Open for all
APPLICATION PROCESS
Go to the given apply link and register
Follow further steps to complete registration
Note that applicants must complete their applications within 5 days of registration. This includes submitting the photos (with a resolution of 15 cm on the longer side at 200 dpi) with suitable captions, the exhibition text and a personal biography with a portrait. Applications will be considered only if they are complete.
Application Deadline: January 31, 2018