Think Big Undergraduate Scholarships at University of Bristol 2018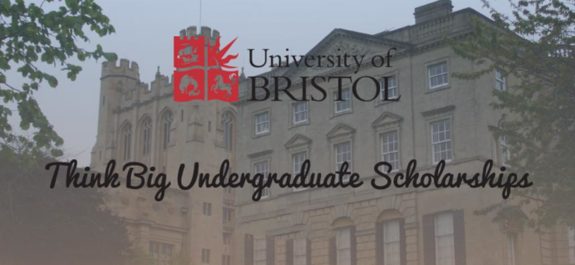 The University of Bristol is one of the top 5 UK universities for research. They are committed to helping and nurturing global talent to produce the future leaders of tomorrow.To provide overseas students with an opportunity to experience life at the University of Bristol, gaining access to its academic expertise and facilities, 26 Think Big Undergraduate scholarships are available for courses starting in 2018. These awards cover between 25 and 100 percent of tuition fees for the duration of your course.
WORTH
These scholarships will cover between 25 to 100 percent of tuition fees for the duration of the course.
Scholars will get the opportunity act as a good ambassador for the University of Bristol and at times will be asked to participate in events or promotional activities.
ELIGIBILITY
To be eligible for the University's Undergraduate scholarships, students must:
Be an applicant to any undergraduate programme at the University of Bristol, with the exception of Medicine, Dentistry and Veterinary Science;
Will start their undergraduate programme in September 2018;
Be classed as an overseas student for fee-paying purposes;
Not already be in receipt of other funding which would equate to more than the full cost of tuition fees alongside a Bristol scholarship.
DEADLINE: June 29, 2018
To apply and for more information visit here