Penn-UNESCO Fellowships For Developing Country Scholars 2018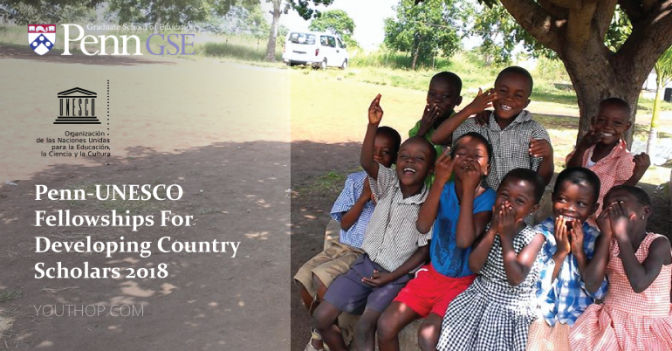 The University of Pennsylvania's Graduate School of Education offers up to two full-tuition International Fellowships under the PennGSE–UNESCO Chair, founded in 2012. This Fellowship, under the auspices of the International Educational Development Program (IEDP), is the first of its kind in the U.S and is designed to support promising professionals devoted to international education in the developing world. A first Fellow was accepted for the Fall 2011 cohort.
Benefits
The Fellowship covers all Penn tuition (up to 10 course units)
The Fellowship is associated with the IEDP Masters Degree program of study
Eligibilities
Priority will be given to applicants who are citizens of countries defined by the World Bank as low-income and lower-middle-income countries.
Naturalized US citizens and permanent residents who originate from low-income and lower-middle-income countries (i.e., were born in one of these countries and whose parents are not US citizens)
Eligible Regions: Multiple Region ( Check the official website for details)
APPLICATION PROCESS
Interested people should complete the Fellowship application and submit their completed IEDP Masters application to PennGSE site.
Announcement of the UNESCO fellowship award(s) is typically announced by mid-May, before the beginning of the next academic year
Application Deadline: April 1, 2018
For more information visit here.