Watch: Danai Gurira Share New Black Panther Clip on Jimmy Kimmel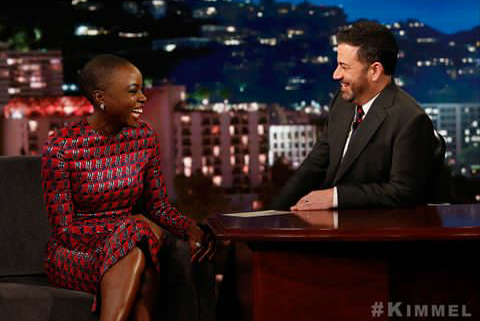 Danai Gurira keeps making us proud. As the days until the Black Panther premier draw near, there is so much hype going around.
Danai Gurira joined talk show host Jimmy Kimmel. She shared the new Black Panther clip on Jimmy Kimmel.
Gurira plays the character, Okoye, and from the clip I'm she is bad ass. During her appearance on Jimmy Kimmel Live!, Gurira shared about her experiences growing up in Zimbabwe. She also explained about how hard it was shaving off her hair mainly due to the cold.
She also shared what it's like having to keep secrets about Marvel and The Walking Dead. Fans got to find out about her best friend who is also Zimbabwean. She took her best friend to the Black Panther movie's world premiere event.
Marvel Studios released another clip after that premiere, which features key characters from the film in an epic fight sequence.
Check out Danai Gurira on the Jimmy Kimmel show.