Court Date Set for Zimsec Exam Cheats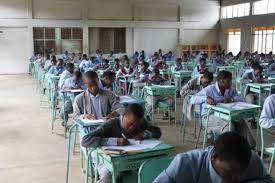 A hearing a date has been set for an appeal for Zimsec exam cheats. 15 Gweru-based Regina Mundi High School pupils were blacklisted by ZIMSEC for alleged examination cheating. The date has been set for March 12.
The hearing will be presided by Bulawayo High Court judge Justice Nokuthula Moyo. The students through their parents, filed a court application at the Bulawayo High Court challenging the nullification of their November 2017 results by Zimsec. They are seeking an order compelling Zimsec to set aside its decision to cancel their November 2017 examination results.
Minister of Primary and Secondary Education Professor Paul Mavhima and Zimsec are cited as respondents.
According to court papers, one of the pupils allegedly mobilised her classmates to contribute $3 each towards raising money that was used to purchase copies of the November 2017 Examinations question papers for English Paper 2 and Mathematics Paper 2. The pupil allegedly received the question papers on her mobile phone via WhatsApp and shared them with her classmates. They then allegedly smuggled the papers into the examination room.