MIT and Mastercard Foundation : Zambezi Prize for Innovation in Financial Inclusion 2018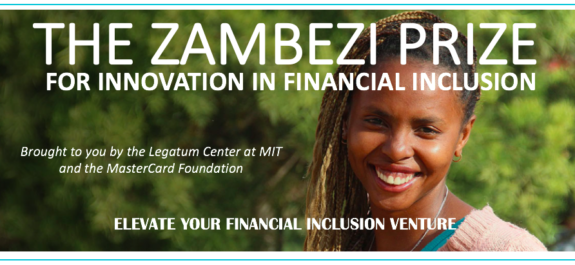 Cambridge, Massachusetts, USA. The Legatum Center for Development and Entrepreneurship at the Massachusetts Institute of Technology (MIT), in collaboration with the Mastercard Foundation, today announced the launch of the 2018 edition of the Zambezi Prize for Innovation in Financial Inclusion. The prestigious competition, awarding a total of $200,000 in prizes, was established to discover Africa's most promising and innovative early-stage start-ups that promote and advance financial inclusion on the continent.
This year's competition will be supported by the MIT Legatum Center's annual Open Mic Africa tour, a cross-continent tour in search of Africa's most innovative entrepreneurs that will debut in Spring 2018. The Legatum Center, with support from Techpreneur Africa and the late Bolaji Finnih, hosted the premiere event of the 2017 Open Mic Africa tour in Lagos, Nigeria.
WORTH
There are multiple awards and opportunities available for finalists:
The grand prize winner will be awarded $100,000.
The two runners-up will each receive up to $30,000.
The top 10 finalists are guaranteed to each receive up to $5,000 in cash prizes as well as VIP tickets to the Zambezi Award ceremony, cohort-building activities, international media exposure, and personalized introductions to the MIT Legatum network of investors and mentors.
ELIGIBILITY
The Zambezi application is now open for early-stage African tech start-ups who are furthering financial inclusion in Africa.
Applicants will be judged on their ability to solve one of the financial inclusion challenges put forth by the Prize;
their current and potential impact on the local ecosystem;
The scale of their innovation;
and the feasibility of the solution.
DEADLINE: June 2018
To apply and for more information visit here