Zim Achievers Awards UK 2018 Nominees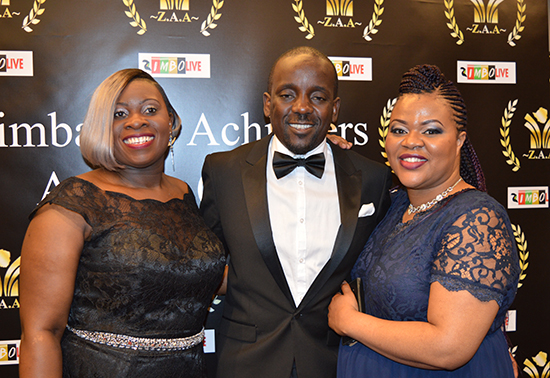 The Zimbabwe Achievers Awards (ZAA) announced the nominees for the UK edition. The nominees were announced through live streaming.
In partnership with London Fintech Company, WorldRemit nominees of the eighth edition were announced at a press conference held at the WorldRemit headquarters in London. There are over 85 nominees across 17 categories.
Voting lines opened on Friday 16 March and close at the end of April. Profiles of this year's nominees will also be featured on zimachievers.com/uk. Voting will also be done via the same link.
Find out the nominees for the 2018 Zimbabwe Achievers Awards UK edition.
Business of the Year
· Genesis Law
· Ekhaya
· The Bantu Chefs Kitchen
· Banya Family Placement Agency
· Rainbow Medical Services Ltd
Male Entrepreneur
· Dr Joseph Toindepi
· Milton Mutukwa Sakutukwa
· Ben Masina
· Ndumiso Hlabangana
· Chef Ray
Female Entrepreneur
· Moira Chirara
· Fungai Ndemera
· Dee Mapasure
· Julie Condliffe
· Ennie Mupoto
Professional of the Year
· Portia Khumalo
· Fortune Mahwire Chigwende
· Tongai Kunorubwe
· Wise Chigudu
· Brian Mangwiro
· Dr Caroline Makaka
Community Champion in association with Vaka Buildings
· Jay Mawaka-Smith
· Sithule Tshuma
· Tariro Magombo
· Dumie Moyo
· Bongi Sibanda
Community Organisation
· Touched By An Angel
· Stevenage Kadoma Link Association
· Afreec
· St Mary's Foundation Trust
· Qoki Zindlovukazi
Music video of the Year
· Kudana – Kazz Aka Mr_Boomslang
· What U Need Ft Ian Green) -Valerie Sibanda
· Kambo Boys – Sweet Larrisa
· Lahlumleze -Black Diamonds
· Real G- Icey Stanley Ft Mr Macee
Music artist of the Year
· Ice Stanley
· Black Diamond
· Thabo Mkhwananzi
· Valarie Sibanda
· Kwaye
International Gospel Artist
· Sabastian Magacha
· Rev TT Chivaviro
· Janet Manyowa
· Michael Mahendere
· Carol Nyakudya
Male Personality
· Jacob "Mc/DJ Sebhelebhe" Mbofana
· Vic Taks
· Gineas Mupfayi
· Gearbox
· Munashe Comedy
· Bawren Tavaziva
Female Personality
· Dj Ru-Samantha Katsere
· Olinda Chapel
· Tendai-Dj Petitte
· Natasha Ndlovu
· Eugene Majuru
Fashion Designer
· Leyelesi
· Sinikiwe Moyo (Nikimoyo)
· Diana Ntimane (Akani Fashion House)
· Ngoni Chikwenengere (We Are Kin)
· Joyline Munaiwa (Joy-Line Clothing)
Sports Personality
· Don Armand
· Seth Patrick
· Trevor Mazhande
· Cecil Nyoni
· Tinotenda Chibharo
Event of the Year
· Woman Of Valiance (Vow) 2017
· Financial Markets Indaba – London
· Zim Connect 17
· Zimfest 2017
· Zimlinkup All White Party
People's Choice in association with Savannah Freight
· Olinda Chapel
· Gearbox
· Big Kev
· Gerald Belts
· Dj Small Boy Taf
Breakthrough Award
· David Matsekeza and Munya (Afrokings)
· Donel Mangena
· Nomalanga Creates
· Empire Lounge-Leicester
· Changamiri Coffee Shop
· Nandi
Young Achiever
· Theo Chikomba
· Amanda Nkomo
· Harry Phinda
· Kudzanai Hwami
· Tanaka Travels