It's A Big Deal! Awa To Close Off the Commonwealth Games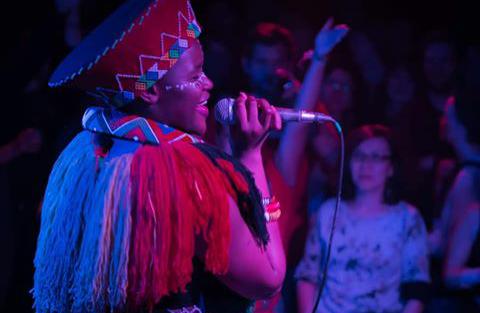 GERMANY-based hip-hop star, Awakhiwe Sibanda aka Awa continues to raise the country's flag internationally as she is set to perform in the closing ceremony of the Gold Coast 2018 Commonwealth Games in Australia.
Probably the high flying Awa will be the first female Zimbabwean rapper to perform in the famous Commonwealth Games slated for 15 April in Queensland
Her rise to fame was facilitated by her spectacular performance at the Shoko Festival and since then the vivacious hip-hop star has been touring around the world giving the best of her spectacular performances which has landed her a performance in Australia.
AWA will perform as part of the GRRRL band which is directed by Brazil's Laima Leyton.
The band features an eclectic mix of seven fierce influential artistes from seven countries which include Zim's Hip-hop Queen.
GRRRL is bespoke electronic music collaboration between independent, revolutionary women artistes from places of conflict brought together by In Place of War to tell their collective stories of life, conflict, inequality and change through electronic music and powerful vocals.
"GRRRL is a band which was formed by In Place of War which is made up of seven women from different countries and they choose me to represent Zimbabwe and I'm so honoured to be part of this amazing band which has brought out the best in me," Awa said.
"My role in the band is rapping and I mostly rap using IsiNdebele so that I can be able to express myself and represent my country. I also dance and do backing vocals for others as well," she said.
Speaking from Germany, the Nkayi-born rapper said she was happy to be representing her country in Australia as it has always been her life time dream to perform there.
"I am very happy to represent Zimbabwe and the Commonwealth games this year. I have never been to Australia before so I am sure this will be an amazing experience and I will do my best to represent my people and our culture," she said.
The vivacious hip hop star said she is ready to raise her profile in Europe and make an impact through her music.
"Last year we recorded an album together and we did a tour in the United Kingdom where we headlined some of the biggest festivals such as Freedom Festival, Greenbelt and we were voted the best musical act at Shambala Festival. This year we are ready to dominate in the Commonwealth games and make a mark," she shared.
The Commonwealth Games (known as the British Empire Games from 1930-1950) is a multi-sport international event which, like the Olympics, is held every four years and they are considered third largest multi-sport event in the world after the Olympics.-@kayskudzai
Did you know that The Commonwealth Games are expected to be watched by a global audience of 1.5 BILLION? Did you also know that our very own Awa Khiwe, from Bulawayo, Zimbabwe, will be one of the performers at the closing ceremony? She is a member of the group GRRRL and she will be there being one of those #ZimbosDoingTheMostest. Well proud of you Twana. Lemme know if you need cough mixture before you go🤣🤣🤣 (Because I don't like cryptic status updates I shall explain. Last time I saw AWA perform she was coughing so I brought her some cough mixture like a proper big sister would. Just nje)