Thomson Foundation Mobile Journalism Competition 2018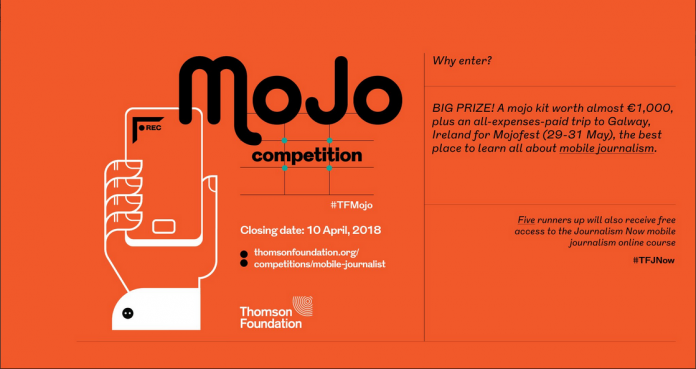 The Thomson Foundation mobile journalism competition is a leading showcase for mobile journalism ('mojo') talent. Now in its fourth year, and this time in partnership with Mojofest – a global celebration of mobile content creators – we are once again inviting entries.
If you think you have what it takes to be the next mojo star, then submit a feature story or news report filmed and edited entirely on a mobile device, which excites, intrigues and surprises and demonstrates impact and creativity.
The winner will receive a mojo kit worth nearly €1,000, plus an all-expenses-paid trip to Galway, Ireland, for Mojofest in May (29-31).
This is an open competition to find the best journalistic example of the use of mobile content production for storytelling. Last year's competition attracted nearly 100 entries from 28 countries. The growing number of entries each year demonstrates just how the mobile phone has enabled a new generation of journalists.
WORTH
Prize 1: The winner will receive a full mojo kit worth approximately €1,000, plus return flights to Galway, Ireland, five-star accommodation and tickets to Mojofest from 29-31 May 2018, a festival dedicated to mobile journalism and headed up by one of the most respected mojo voices in the industry, Glen Mulcahy.
Prize 2: Five runners up will also receive free access to Glen's popular mobile journalism online course from our Journalism Now programme.Chance to showcase your work and boost up your career.networking opportunity with professional renowned journalists.
ELIGIBILITY
The competition is open to entrants aged 18 or over.
The winner is responsible for ensuring they are able to accept the prize as set out and in accordance with these terms and conditions. In the event they are unable to do so, then Thomson Foundation reserves the right to select another winner.
Only one entry per person. Entries on behalf of another person will not be accepted and joint submissions are not allowed.
Thomson Foundation accepts no responsibility for entries that are delayed or incomplete or cannot be delivered or entered for any technical or other reason.
The prize is subject to a successful visa application and the Mojofest event going ahead and is non-exchangeable, non-transferable and not redeemable for cash or other prizes.
The winner may be required to take part in promotional activity related to the competition and shall participate in such activity on Thomson Foundation's reasonable request. The winner will consent to the use by Thomson Foundation of the winner's images, name and voice for publicity purposes and in marketing and promotional material.
Thomson Foundation will take care of any personal information supplied to it as described in its privacy policy, and in accordance with data protection legislation.
By entering the competition, you agree to the collection, retention, usage and distribution of your personal information in order to process and contact you about your competition entry, and for the purposes outlined in the above bullet point.
Entrants into the competitions shall be deemed to have accepted these terms and conditions.
DEADLINE: April 10, 2018
To apply and for more information visit here