VR for Good Creators Lab Returns for Third Year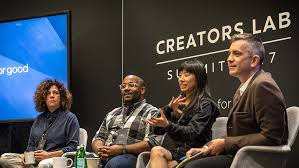 Applications for the VR for Good Creators Lab are now open. The Oculus VR for Good initiative and its Creators Lab program kicked off in 2016 to help leverage the immersive power of VR to inspire positive social change. Since then, 20 rising content creators have been paired with various nonprofit organizations to spread global awareness of important issues ranging from human trafficking and domestic abuse to marine conservation efforts, justice reform, and beyond. Over the past two years, we've had Creators Lab projects accepted into major film festivals including SXSW and Tribeca—and the momentum continues
Content creators and nonprofit organizations across the globe are encouraged to apply for this unique opportunity to impact audiences in VR. Selected participants will join us in California June 6 – 8, 2018, for a two-and-a-half-day summit featuring workshops, brainstorming, and community building.
Deadline: April 6, 2018
For more information visit here.