Zimbabwe Sables Stuck In Tunisia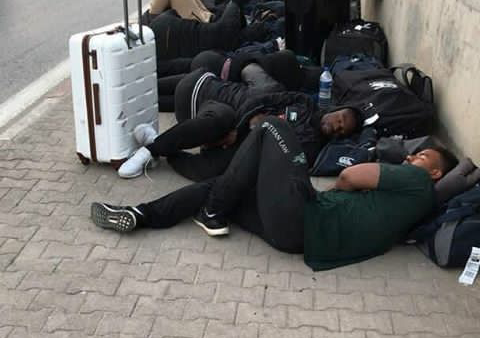 Rugby is one of those sports that hasn't received much support locally. While millennials and generation Z are fans of the sport, it's yet to receive real corporate boosting. Well, Twitter went crazy as photos emerged of Zimbabwean Rugby team, the Sables team stuck in Tunisia and sleeping on the streets.
Speaking on his Social media handle,Senator David Coltart had no kind words for the authorities. "Our national rugby team the Sables are being treated in the most appalling way in Tunisia. They have been forced to sleep on the streets as the accommodation they were provided with is disgusting.
On arrival they spent 6 hours held up at border and the authorities have taken their passports claiming they need to pay for visas amounting to 600 euro which they cant pay as they dont have funds. Most team members only had 2 hours sleep last night. The ZRU board appear to have done nothing about the situation along with the SRC. Coach De Villiers and the managers are on the street with the players."
In an official press release distributed by APO Group on behalf of Rugby Africa it stated:
Rugby Africa has been made aware of the difficulties encountered by the Zimbabwean Rugby team – the Sables – with regards to their accommodation in Tunisia. We would like to reassure the Zimbabwean Ministry of Sports, Zimbabwe Rugby Union, and all partners and fans that the situation was addressed immediately, and an acceptable solution has been found this morning. Tunisia Rugby Union took the Sables management to visit another hotel which was accepted.

Rugby Africa and Tunisia Rugby Union would like to express their sincere apologies to the Sables team and management for this unfortunate situation. This does not reflect the standards of the Rugby Africa Gold Cup competition and we sincerely regret any prejudice caused.

Mr Khaled Babbou, Executive member of Rugby Africa, is currently on his way to Beja to inspect the facilities and meet with the Sables team. "I apologise on behalf of Tunisia Rugby Union, we pride ourselves in hosting Rugby Africa tournaments every year and make every effort to meet the best international standards in terms of accommodation and other infrastructure. Something went wrong for which I am sorry, but this was corrected this morning in consultation with the Sables management team. I can assure you that there was absolutely no intention to destabilise our opponents and we will make every possible effort to ensure they have a good preparation ahead of Saturday's match."

The President of Rugby Africa Abdelaziz Bougja confirmed "our hosting agreements are signed by the six participating unions in the Rugby Africa Gold Cup and are very clear and strict in terms of accommodation standards. We rely on our unions to make sure the requirements are met and it is unfortunate that it seemed not to be the case with this hotel in Tunisia. However Tunisia Rugby Union has our trust, they are long term partners to Rugby Africa, hosting several matches and tournaments on our behalf every year, I know for a fact that hospitality matters to them and they have taken this issue very seriously and are rectifying it. Player welfare is at the heart of our preoccupations so we are not taking this lightly. We wish both teams the best for Saturday's game. The Gold Cup has been a huge success so far, helping to raise standards of African rugby, and popularity of the Game, we would like to thank the six teams , six hosting unions, ministries of sports, our broadcaster Kwese Sports and all our partners and sponsors for their support and assistance."