Commonwealth100 – Fully funded Online Leadership Course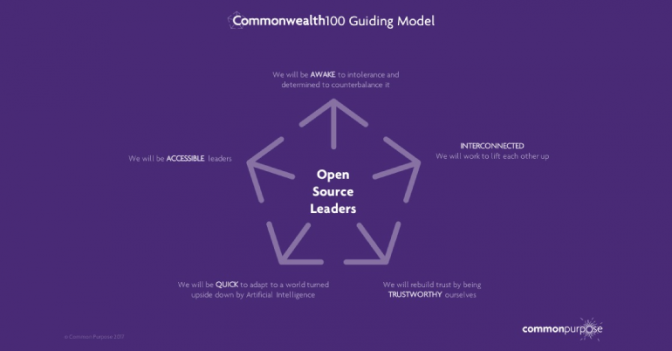 Commonwealth100 is a new, free, crowd-sourced, experiential, online leadership development programme that aims to equip a new generation of young leaders from the Commonwealth with skills relevant to the 21st century, with the Open Source Leadership model. Open Source Leadership was crowdsourced from and co-created by 1000 young leaders across the Commonwealth in 2017 and identifies five key areas of development crucial for 21st-century leadership. Open Source Leaders are: Awake, Interconnected, Trustworthy, Quick, and Accessible.
The programme runs every month for three weeks and can be completed in your own time. If you complete the course you'll receive the Open Source Leader badge, an online certification that you can display on your CV or online platforms!
Commonwealth100 aims to produce a more socially-conscious generation of leaders, create a network of young leaders in touch with each other, foster current and future global partnerships between young leaders, and frame a fresh, bold, principled, networked Commonwealth of the future.
Location: Online
BenefitsThis is your opportunity to gain practical skills for the future, reflect upon your own leadership style, and move forward with a new perspective on how to make the most positive impact.What's more, everyone who completes Commonwealth100 receives the Open Source Leadership Badge: an online badge you can use to set yourself apart, as a 21st Century leader.You can put the badge on your CV and online profiles.
EligibilitiesCommonwealth100 is open to young people aged 18+You may be at the beginning of your career or in Higher or Further Education.Eligible Regions: Citizens or residents of Commonwealth Countries, Commonwealth Countries
APPLICATION PROCESSApply online through the given link.The deadlines for signing up for the 2018 courses areAugust 9thSeptember 6thOctober 4thNovember 1stDecember 6th
APPLY NOWOFFICIAL LINK
For Further QueriesIf you have any questions about the course, you can contact the course coordinators Megha Harish (megha.harish@commonpurpose.org) or Cassidy Clark (cassidy.clark@commonpurpose.org).