Open Society Youth Fellowship Program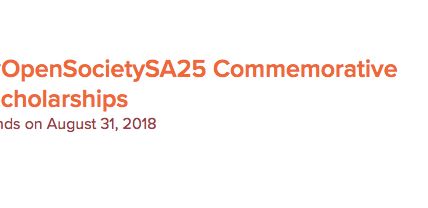 All application materials must be submitted by 31 August 2018
The OSF-SA Commemorative Scholarships will be awarded through an open application process, to individuals under the age of 35 years who have shown a commitment to furthering the goals and values of an open society. Up to 15 full scholarships will be available for eligible candidates to pursue post-graduate studies in the social sciences and humanities. Full details of the scholarships are available on the OSF-SA website.
How to Apply:
Applicants can pursue further studies in the following areas:
Law, Justice, and Governance
Sustainable Development and Natural Resource Management
Economic Rights, Justice and Empowerment of the Poor
Public Health and Inequality
Media Freedom and Expression
Land Policy;
Education and Inequality
Human Rights Advancement
Social Movements / Building Civil Society
Constitutionalising Foreign Policy
Political Economy
The following must be submitted in PDF/Word format:
A personal statement of two pages, describing the applicant's qualifications and motivation for applying. Applicants must discuss their current and previous human rights work, interest in and commitment to the human rights and social justice sector and field, and career goals
A description of the issue the applicant wishes to explore if their application is successful and why it is important for the promotion of an open society (800 words maximum)
Letter of nomination from a current or former OSF-SA grantee (host organisation) and statement of commitment to financially host the applicant for a period of 12 months and administer the scholarship (tuition and stipend, with no overhead cost)
Two letters of recommendation from professional referees (that is not a family member/friend/ staff or Board Member of OSF-SA) that speak to the applicant's prior work and future potential as a social justice advocate, scholar, and/or practitioner. Applicants may be asked to submit a further letter of reference should the Selection panel deem it necessary
A two-page abridged CV
A short biographical statement
One high-resolution (file size at least 2MB) color photo (head shot)
For more information visit here.