Transform Together Scholarships 2019 at Sheffield Hallam University, UK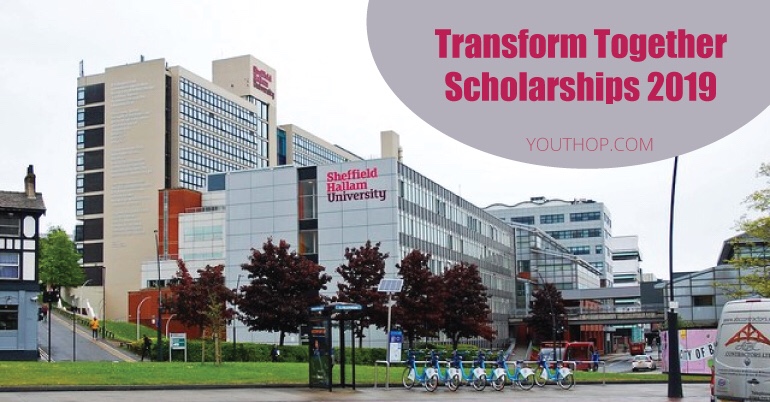 Transform Together Scholarships are exclusively for international and European Union (non-UK) students starting a full-time taught course in 2019. Tuition fee waivers up to 50% will be granted to students who can demonstrate excellent academic performance. The scholarship is available for postgraduate courses and for each year of an undergraduate degree. Scholarship applications for courses starting in January 2019.
Location: United Kingdom
Benefits
• 50% tuition fee scholarship
• Gain better interpersonal skills
Eligibilities
• Be an international or a European Union (non-UK) fee paying student
• Postgraduate only – have achieved a minimum 2.1 or equivalent in your honours degree and must meet the English and academic entry requirements for your course.
• Undergraduate only – have achieved the English and academic entry requirements for the course. If you are awarded an undergraduate scholarship, you must successfully complete each year of study to continue to receive the fee waiver.
• Have accepted an offer for a full-time taught undergraduate or postgraduate course at Sheffield Hallam University.
• Be fully self-funding your studies. Please see our frequently asked questions if you are unsure if this applies to you.
• Be able to pay any additional fees your course may require, for example field trips
Eligible Regions: Open for All (except UK)
APPLICATION PROCESS
• Apply for a course at Sheffield Hallam. If you have not applied for a course, please visit our online prospectus
• Check you meet the scholarship eligibility criteria listed below
• When you have accepted an offer to study on a course here, apply for a scholarship online through the apply link
• Mail your academic transcripts to:  globalscholarshiptranscripts@shu.ac.uk
• You will be notified if you have been successful within one month of the deadline. All decisions are at the University's discretion and are final.
Application Deadline: November 1, 2018 (37 Days Remaining)