Young Entrepreneurs Convene at Business Workshop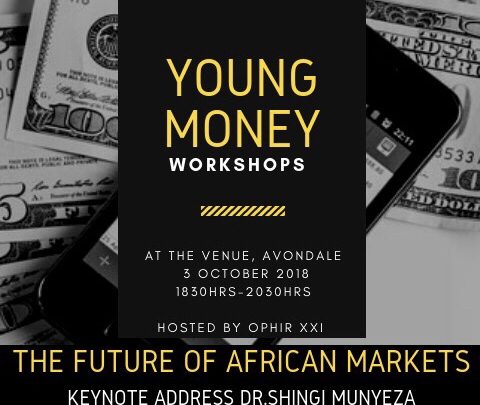 The Young Money Workshop to be hosted on the 3rd of October 2018 at The Venue in Harare is an interactive platform which explores solutions to socio-economic problems and phenomenon in the
African context for the purposes of building solutions for a more prosperous future for African youth and communities.
This is conducted through a series of interactive panel discussions and
presentations by a variety of authorities and stakeholders in the shaping of the future of Africa.
The Young Money Workshops are primarily target the youth aged, 18 – 35 and is welcoming to anyone who feels a vested stake in shaping the future of African economies and communities in the 21st century.;
The theme of this inaugural event is Africa 2050: The Future of African Markets and will focus on two main topics:
1.Building sustainable economic models in an unpredictable and evolving environment ,and
2. Africa in the 4th Industrial Revolution.
We boast an accomplished line up of young entrepreneurs who have shown through their work not only the potential of Zimbabwean youth, but the current
impact and success of youth in the Zimbabwean economy and Southern African region. This line up of panelists will be opened by our keynote speaker Dr. Shingi Munyeza and to be moderated by host of ZiFMs Business Unusual program.
The Line Up includes Andy Hodges includes:
Businessman and financial advisor Andy Hodges will moderate the workshop. The panelists will include Tatenda Jakarasi (Munch Zimbabwe), Chiedza Danah (Unplugged Zimbabwe), Jamie Fraser Mackenzie, Capitalk FM Presenter, Farai Gwaze and  Anthony Gumbo, Category Manager Pick n Pay South Africa.