8th United Nations Alliance of Civilizations (UNAOC) Global Forum 2018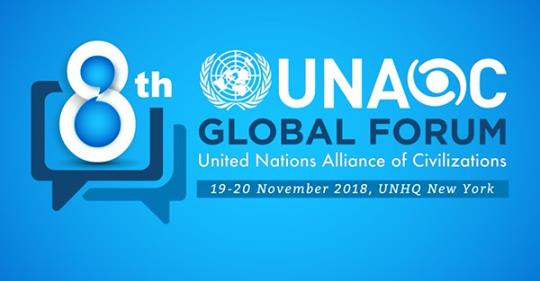 The 8th UNAOC Global Forum will be held under the theme: "Commit2Dialogue:
Partnerships for Prevention and Sustaining Peace". It will be organized on Monday, 19 November and Tuesday, 20 November 2018 in the conference rooms of United Nations Headquarters in New York.
The scourge of violent extremism and the rise of cultural and religious-based discrimination and xenophobia are among the world's most critical challenges. There is a pressing need to re-commit to interreligious and inter-cultural dialogue and to promote tolerance, diversity and a culture of peace.
Since 2008, UNAOC Secretariat has organized seven global forums that were hosted in seven different countries around the world. The UNAOC Global Forum has become a leading platform for promoting interreligious and intercultural dialogue and understanding, as well as for forging collaboration with like-minded partners.
This year, UNAOC will bring together almost 1,000 participants to the United Nations Headquarters in New York. UNAOC will invite participants to share knowledge and explore innovative ways of promoting inclusive approaches to conflict prevention as a pathway for sustaining peace. This year's forum will also serve as a catalyst for building partnerships that will help achieve that goal.
The 8th UNAOC Global Forum will bring together key international actors from diverse fields to build productive partnerships and networks.
Under the leadership of the UNAOC, participants will explore innovative methods to promote inclusive approaches to conflict prevention and sustaining peace, as they share expertise and good practices
PROGRAMME CONTENT OVERVIEW
During the Forum, participants will convene in 2 Plenary Sessions and 6 Breakout Sessions.
The 2 Plenary Sessions: 2 hours each, with 6 speakers and a moderator, followed by an interactive Q&A session with the audience.
The 6 Breakout Sessions: 3 parallel sessions per day, will last for 2 hours each with 5 panelists and a moderator.
The Youth Event, organized on the first day of the Forum, will provide a platform to amplify the voices of youth (UNAOC Alumni) and showcase the impact of their work on their communities.
PLURAL + Awards Ceremony: Plural +, the joint initiative of UNAOC and the International Organization for Migration (IOM), will recognize youth as powerful agents for positive social change. The awardees will be celebrated in a gala dinner for their creativity expressed through the production of videos on countering xenophobia against migrants and refugees and promoting diversity, and social inclusion. The Group of Friends High Level Ministerial Meeting for official delegations will be held on day 2.
Application Deadline:November 5, 2018 https://goo.gl/d3DJ6a
For more information visit here.