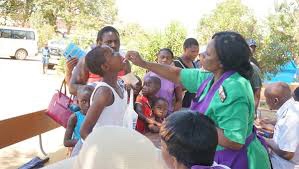 With the current scourge of the current cholera outbreak, government has made an intervention. The Ministry of Health and Child Care launched the oral cholera vaccination programme in Budiriro One.
This is effort to prevent the spread of the disease, after at least 49 people died. Following the cholera outbreak which, government designated the situation as a state of emergency.
The government is targetting vaccinating 500 000 in high-risk areas. Minister Obadiah Moyo shared at the launch, that the vaccine is risk-free and effective, the minister got the first dose of the vaccine.
He shared:
"The vaccination program has commenced today. The first round of the vaccination campaign is targeting the four suburbs Budiriro, Glen View, Mbare, and Glen Norah because they have been the epicenters of the disease."