10th Annual G(irls)20 Summit 2019 in Tokyo, Japan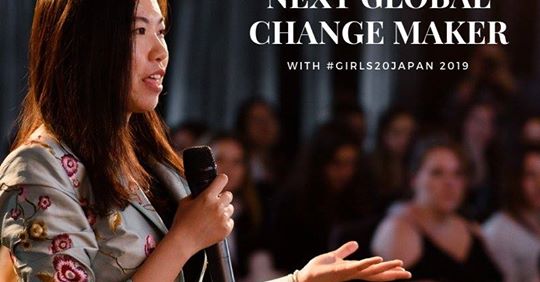 G(irls)20 is coming to Japan for the 10th annual Global Summit. 20+ young women from around the world will arrive in Tokyo for a week of leadership training, social enterprise development and mentoring by female leaders in the business and public sectors. Delegates contribute the economic and social issues facing girls & women in their countries to a Communiqué delivered to world leaders in advance of the G20 Summit and leave the Summit with increased confidence, new skills, and a global network that will allow them to make change as a community and global advocates!
The Summit will be held from May 25th – 31st, 2019 (delegates to arrive May 23 or 24) in Tokyo, Japan.
The G(irls)20 Summit is modeled after the G20 Summit and culminates in a one-day symposium with local and international panelists, keynotes, and experts on economic and social issues facing girls and women.
Eligibility Requirements:
Must be 18 years old to apply, and must not be older than 23 years old in May 2019. Date of birth must be between May 30, 1995 – January 1, 2001.
Holds or can obtain a valid passport
Holds citizenship in any of the participating countries or regions (see above)
Benefits:
G(irls)20 will cover the following costs for all delegates:
Flights to and from Tokyo from their nearest major city
Transportation to and from the airport in Tokyo
Accommodation in a shared room with one other female delegate
All meals during the week
Costs associated with travel visas
The week-long summit for delegates will include:
Workshops building valuable leadership skills — from Emotional Intelligence to Strategic Planning
Panels and speeches on the key issues facing girls and women globally — with an emphasis on digital inclusion and financial inclusion
Developing a Communiqué to G20 leaders, with recommendations based on the delegates unique experience and expertise
Networking receptions with movers and shakers in the public and private sectors
Building a network of female mentors from the across the public and private sectors
The opportunity to build lifelong friendships with 20+ young female leaders from around the world
Application Deadline: Wednesday, November 21st 2018
For more information visit here.