Hult Prize 10th Year Anniversary Challenge 2019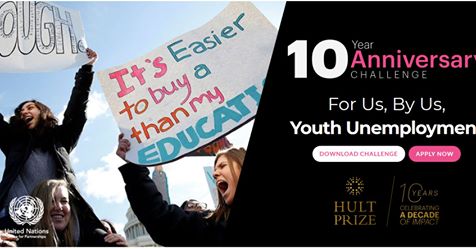 The Hult Prize is a start-up accelerator for impact entrepreneurship which brings together the brightest college and university students from around the globe to solve the world's most pressing issues through pitching ideas and launching companies. It's the biggest and most prestigious start-up event in the world, and awards millions of dollars in investment capital to young budding entrepreneurs, including a grand prize of USD1Million.
Addressing the global youth challenge means starting anew. New ideas. New business models. New technologies. New mindsets.
The 2019 Hult Prize Challenge as announced by President Bill Clinton at the United Nations is: "For Us, By Us: The Global Youth Unemployment Challenge" We want you, the youth to take on and act to develop a venture that will create 10,000 meaningful jobs for the youth within the next decade – with no restrictions in the industry of where these jobs come from. That is why this challenge, as our 10th Anniversary is so important and unique: it is as broad and as important as ever
How the Hult Prize Works:
There are multiple programs, and multiple rounds of competition. Your goal is to make it to the summer 8-week incubator which is hosted in our castle where you will live, work, learn and play as you develop your game-changing enterprise. The top 50 companies from around the world advance. From there, six are selected to pitch at the United Nations for USD1,000,000. There is funding and mentorship throughout.
There are three ways to become part of the top 50,
1) win a regional final round
2) win an in-country round or
3) win a wildcard round. There are two ways into a regional final, either you win an on-campus Hult Prize which may or may not be happening at your university, or you submit into the general application window.
If none of these paths work for you, then you would have one more shot via our Hult Prize National Program which may or may not be happening in your country. If it is, then you are in-luck because national program winners receive investment capital and a one-way ticket into our summer incubator.
Prize Money:
The prize money is seeded into the newly created company, which will be run by the student team who came up with the idea. We also have funding available through our national programs which have a similar structure.
Application Deadline: December 23, 2018
For more information visit here.