Johnson & Johnson Africa Innovation Challenge 2.0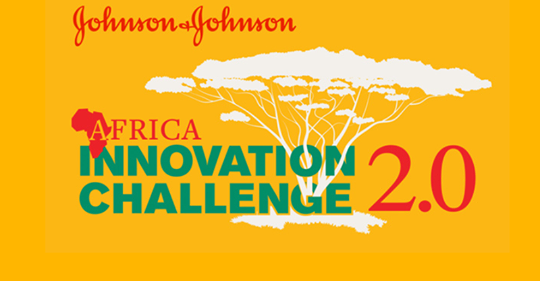 Johnson & Johnson Africa Innovation Challenge 2.0 for promising consumer healthcare solutions ( USD $50,000 in Funding)
Application Deadline: January 16, 2019. https://goo.gl/4Trhvs
Johnson & Johnson today launched the Champions of Science Africa Innovation Challenge 2.0, the second continent-wide competition calling on African innovators to submit ideas for innovative technologies, products and solutions that have the potential to create positive impact for African communities. The challenge focuses on identifying scalable and sustainable solutions to six major health and environmental problems for Africa's population.
Throughout Africa, we are looking to drive entrepreneurship and help advance promising health care solutions. Chosen applicants will receive funding up to US $50,000 and technical mentoring from some of the brightest minds at Johnson & Johnson to help bring their idea to life and create meaningful change in their community or country.
Calling on African Entrepreneurs to Submit Ideas in Six Categories:
Mental Health, Consumer Packaging, Botanical Solutions, Health Worker Support, Digital Health Tools and Essential Surgery
Winning Africa-based innovators and startups eligible for mentorship and US$50,000 in financial support and resources to help bring their ideas to market
With six new solution categories, Africa Innovation Challenge 2.0 represents an extraordinary opportunity for the region's growing community of innovators to showcase new ideas with the potential for broad societal impact.
The Africa Innovation Challenge 2.0 is designed to address the critical unmet needs of the continent and local communities in Africa while providing support to Africa-based entrepreneurs in creating innovative health care products and services. Among the selection criteria, entries must demonstrate the potential for scale from proof of concept stage to long-term sustainability. Challenge participants with the best solutions will receive up to US$50,000 in funding and mentorship from the global network of scientists, engineers and business managers within the Johnson & Johnson Family of Companies to bring new solutions forward.
Challenge submissions may originate from anywhere in Africa, and from one or more individuals, teams or companies; subject to certain eligibility requirements set out in the terms and conditions for the challenge. The submitted health care solutions will be evaluated based on their ability to meet the following criteria:
1) Idea submission addresses at least one of the six challenge categories.
2) Idea submission is innovative and creative.
3) Idea submission is scalable.
4) Idea submission outlines how the award would help the applicant(s) reach a critical milestone within the timeframe of a single year and provides a full commercialization plan.