The AFRIKA KOMMT! Fellowship Programme 2019/2021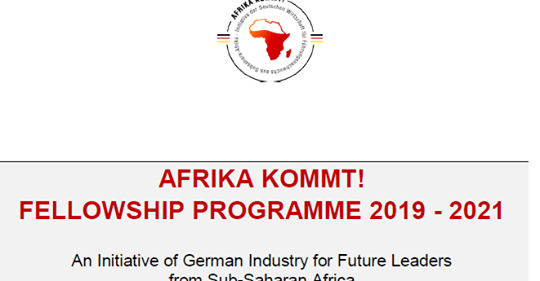 19 leading German enterprises founded the initiative AFRIKA KOMMT! in the year 2008 – the very first joint-initiative for capacity building by German industry. After the success of the first six programme intakes and the seventh AFRIKA KOMMT! intake still in process, the eighth AFRIKA KOMMT! intake will follow on seamlessly with the application phase starting 27 November 2018.
Win-win situation: benefits for both sides
At the heart of the AFRIKA KOMMT! fellowship programme is an eight-months practical training in a leading German enterprise benefiting both, fellows and partner companies – a classic win-win situation:
The programme fellows benefit through
gaining first-hand practical experience in a leading German enterprise
being exposed to leadership concepts and management techniques in practice
becoming acquainted with working processes and business culture in German enterprises
extending their international management competencies
initiating networks of cooperation partners between Sub-Saharan Africa and German companies
The partner companies benefit through
establishing networks of cooperation and trust in promising future markets in Sub-Saharan Africa
extending their experience with the working and business culture in Sub-Saharan Africa
improving their knowledge about cultures, markets, countries etc. in Sub-Saharan Africa
After six completed programme years, a significant number of the participants now work in the branch office of their respective partner company in Africa.
Eligibility
Candidates need to fulfil the following formal eligibility requirements:
University degree in a relevant subject (please see individual company profiles below)
Postgraduate degree (e.g. MBA) is an advantage
Two to five years of relevant work experience
Excellent English language skills
Basic knowledge of the German language is an advantage
Not older than 35 years and physically fit
Female candidates are welcome
Candidate profiles
The AFRIKA KOMMT! fellowship programme aims at highly qualified, self-driven young professionals and junior executives from Sub-Saharan Africa with several years of hands-on work experience, strong leadership qualities and a very high level of commitment and dedication.
Besides the specific technical expertise relevant to the partner company, the programme requires candidates to have the following set of general skills and attributes:
Language and communication skills:
Excellent English skills
Strong oral and written communication skills
High willingness to learn German
Professional skills:
High leadership potential
Strong self-motivation and self-starter mentality
High level of dedication, commitment and target-orientation
Strong capacity for teamwork
Personal attributes:
High level of enthusiasm, flexibility and resilience
Outstanding intercultural competencies
Ability to adapt to new environments quickly
Benefits:
The AFRIKA KOMMT! fellowship programme includes:
Language course
An individual German language course before departure to Germany
An intensive German language course in Germany including fees, accommodation and living allowance
Travelling expenses – Flights, Visa, etc.
Visa for Germany for one year
Roundtrip airfare from your home town to Germany and back
Travel to refresher course and back
Programme-related travelling expenses in Germany
Monthly living allowance during the theoretical phase
Monthly living allowance of € 750,- (August, September and October 2019; July 2020)
One-off relocation fee of € 1.000,- for settling back into the home countries
Monthly salary during the internship in the companies of approx. € 1.500,- gross
Application Deadline: September 1st 2019
For more information visit here.