AFRIKA KOMMT! 2019 – 2021 Fellowship Program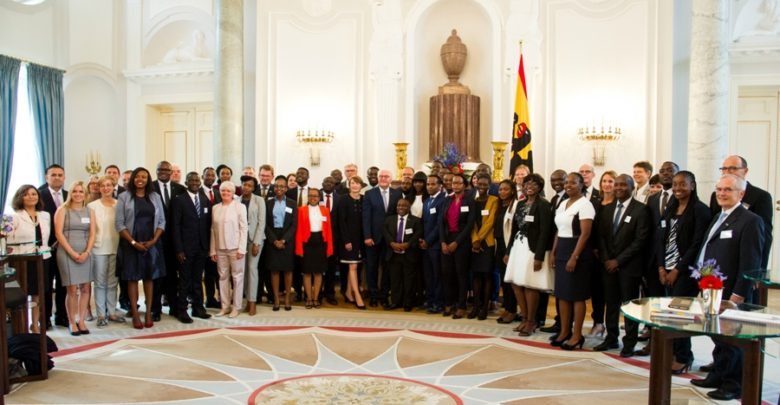 You can now apply for the new intake of the programme AFRIKA KOMMT! 2019 – 2021.
Applications can only be submitted through the
online application system.
The deadline for applications is 11.01.2019.
Please read the application requirements carefully. You will find all necessary information in the
application guide.
APPLY NOW!
Key elements of AFRIKA KOMMT! Financed by the German partner companies, the capacity development programme AFRIKA KOMMT! consists of the following key components:
1. One-month individual German language preparation course 2. One-year stay in Germany comprising of:  Two-months intensive German language course  Eight-months internship in a German partner company  Three one-week training modules on international management and leadership competencies  One-week study tour in Germany on relevant subjects, e.g. "Digital Change"  Weekend seminars on cultural and social subjects organised by the Robert Bosch Stiftung in Stuttgart and the ZEIT-Stiftung Ebelin und Gerd Bucerius in Hamburg  Cultural weekend activities organised by GIZ 3. Transfer phase after the stay in Germany with integration into the AFRIKA KOMMT! Alumni Network and its regional Alumni Clubs 4. Refresher course in Germany or Africa, approx. 6-12 months after the stay in Germany, offering the former fellows to extend their networks with other alumni and to mutually benefit from their experiences. "Africa offers important market potential to companies. It is decisive to have the right team on site. AFRIKA KOMMT! provides the outstanding possibility to get in touch with future African leaders."
Uwe Raschke, Managing Director of Robert Bosch GmbH
Deadline: 11 January 2019.
For more information visit here.