Judith Makwanya laid to rest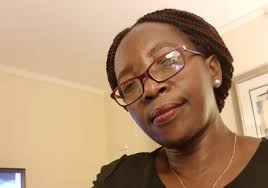 Veteran broadcaster Judith Makwanya was today laid to rest at Warren Hills cemetry in the capital.
The Zbc news diplomatic correspondent sent the media fraterninty into shock after news of her death on Monday evening. Makwanya who succumbed to High blood pressure has been described as a dedicated worker who was with the national broadcaster from 1990 until the time of her death.
Judith rose from being just a reporter to becoming a diplomatic correspondent who was roped into the presidential team in 1997. Makwanya has been described as having been an inspiration to female journalists with Ruvheneko Parirenyatwa and Fadzai Mahere highlighting the vital role she had played in breaking barriers imposed on women.
While there has been some negativity surrounding her character, former Zbc Chief executive officer Happison Muchechetere has criticised such negative comments pointing to the dedication that Judith exhibited. Makwanya leaves behind a legacy of hard work and boasted of being principled in whatever she believed in.
Her legacy is illustrated by the huge crowd that turned up at Warren Hills cemetry on Thursday to witness the burial of a journalist whose absence will be so dearly felt. As the nation reflects on Makwanya's death the welfare of journalists has again come under the spotlight given work related stress is being strongly linked to Judith Makwanya's death. Another senior manager at Zbc Albert Chekayi is also believed to be undergoing rehabilitation after a stroke which is also being linked to work related stress.