Zim dancehall wonderkid drops video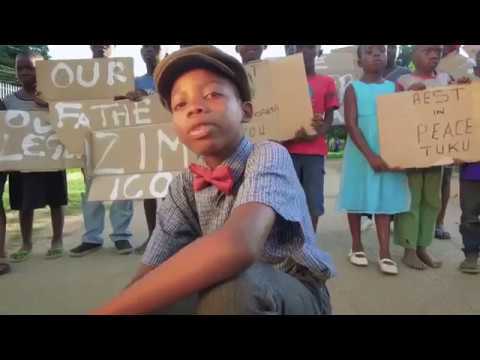 12 year old Zim dancehall wonderkid Flex Tattle has dropped an impressive new video titled "Mukutiona here".
The track which is shot in Mbare and parts of the Harare CBD depicts a realistic picture of City life for the youth who are homeless and require God's intervention. In the song Mukutiona here, Flex Tattle is merely posing a question to the almighty regarding whether he is watching over them and seeing the difficulties that they are having to endure.
In the music video images of street kids dominate, with illustrations of how homeless children struggle to survive in an environment where they have to visit garbage dumping sites in order to get food. At night street kids are also captured making use of fire in order to remain warm in the absence of blankets required for one to have a good night's sleep.
The touching video seeks to highlight the trying circumstances that street children have to endure in their bid to survive. It is God's intervention which now becomes critical given society's inability to cater for the homeless childrens needs.
In the video Flex Tattle depicts societal challenges as resulting in street children having to resort to gambling as a source of livelihood. In the absence of jobs Flex Tattle depicts an image of ghetto life being a matter of survival of the fittest. Flex Tattle is a 12 year old Zim dancehall musician whose musical intelligence is proving to be beyond his age. Flex is one of the emerging artists that are expected to flourish in the future and take Zim dancehall to another level.
Flex Tattle has gained widespread recognition in recent months with a touching performance at Oliver Mutukudzi's funeral capturing the attention of music lovers. Zim dancehall has in the past groomed young talent with the likes of Ras Pomby and Spiderman rising to prominence as young boys. Given such examples Flex Tattle is hoping to make a mark on the local Zim dancehall scene as a young boy.