Candice Mwakalyelye's funky hairstyle.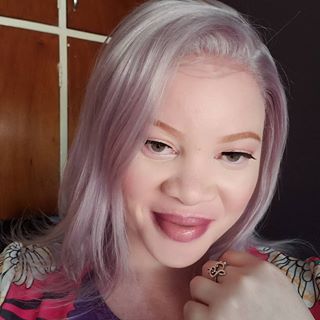 Candice Mwakalyelye has emerged as one of the most elegeant of radio personalities. Despite the challenges associated with albinism Candice has gone about her life in a confident manner with a recent post on instagram startling many. Candice sports a funky purple hairstyle which blends in well with her smooth skin tone leaving many envious on facebook.
Candice has risen to become one of the unique and confident voices on Zifm stereo. Despite society often looking down upon people living with albinism, Candice has emerged as a role model, often ignoring her condition and focusing on strategically position herself as a brand to reckon with. Mwakelyelye is involved in work with Inscor, as she plays a role of promoting creamy inn products. Apart from the Inscor partnership Candice also provides brand exposure for clothing companies as well as hairdo companies.

Candice Mwakalyelye is an award-winning Zimbabwean radio personality and newscaster, presenter and radio show host at ZiFM Stereo. She is also a voice-over artist and brand ambassador for DeeKawZee accessories and Make-up By Gamu.

From March 2008 to August 2008, Candice worked for East Africa Television Limited in Tanzania as a breakfast show presenter. From July 2006 she was the English News Editor for the same broadcaster until September 2008. In November 2008, she joined Vodacom Foundation where she worked as an officer until October 2009. During her stint at Vodacom Foundation, she was the MC for the Zanzibar International Film Festival in June 2009. In July 2009, she became the MC for Music Crossroads Local competition in Dar es Salaam. She joined Y & R Group Ltd- Silver Bullet as a public relations account manager in October 2009 until December 2012. She joined ZiFM Stereo in August 2012. She left ZiFM in October 2016 to pursue other career goals but later returned to the station.