Fans condemn warriors jersey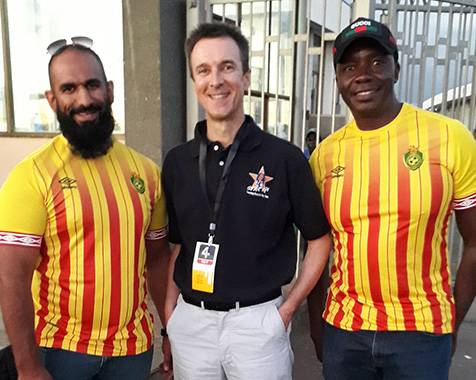 A war over the kit to be used by the warriors at the 2019 Africa cup of Nations to be held in Egypt has erupted on social media. There are fears that images posted on social media of a replica meant to be for the warriors, could be the kit Zimbabwe will use at Afcon.
There has been debate surrounding whether the colours on the replica resemble Zimbabwean colours. Fans are concerned the replica which surfaced on social media in the run up to Zimbabwe's final afcon qualifier against Congo Brazzaville could be the kit the Warriors will be using in Egypt.
The Zimbabwe football Association earlier this year entered into an agreement with global kit manufacturer umbro. Despite having assured fans a new kit would be available for Zimbabwe's home encounter against Congo Brazzaville in March, the warriors faced Congo with a makeshift kit. Zifa however recently announced the warriors kit manufactured by umbro which will be used at afcon will be unveiled next week.
As Zimbabweans build up to the unveiling ceremony, social media is awash with debate surrounding the ideal colours and designs for the warriors. It is however clear initial designs are unpopular among fans who want the traditional yellow and green colours on the kit.
Zimbabwe will be participating at Afcon for the fourth time since a maiden dance in 2004. The Warriors will in Egypt face the hosts, DRC and Uganda.

Zimbabwe is hoping to this time make it beyond the group phase having failed to progress to the knockout phase of the competition on previous occassions. Khama Billiat, Knowledge Musona and Marvelous Nakamba will be some of the key players Zimbabwe will be counting on to impress in Egypt.

Taking Zimbabwe to Egypt will be a second bite of the cherry for Sunday Chidzambwa who was head coach when Zimbabwe made a first appearance at the 2004 nations cup.