Levels wets Zimdancehall fans appetite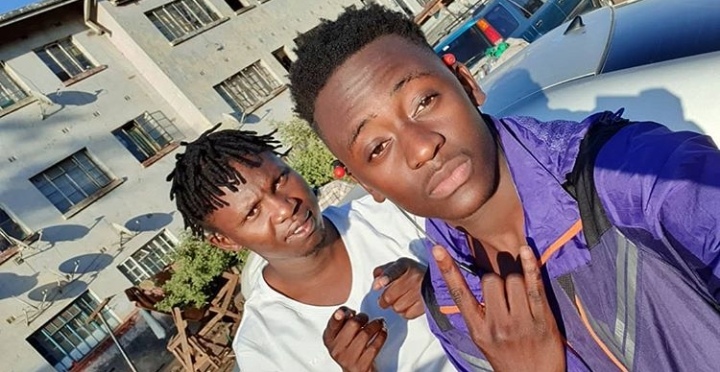 Top Zimdancehall producer levels has aroused anxiety among Zimdancehall fans after posting a pic besides Ras Pompy. The pic has stimulated anxiety and speculation, with many suggesting Ras Pompy maybe in the studio recording some songs at Chillspot records.
Ras Pompy rose to fame as a young boy after churning out several outsanding songs which placed him among recognised Zimdancehall artists on the local music scene. Ras Pompy this month released a video for the track titled "struggle" which highlights the heartache that is often associated by one's quest to provide food on the table for the family.
Prior to the track titled struggle Ras Pompy also released a comeback video which was titled Ndopanzira here apa. Following some years off necessitated by school commitments Ras Pompy has returned to the music scene a lot more mature with a conscious laid back feel inherent in his music. Chillspot records is renowned for producing top quality music and with levels and Ras Pomoy captured together in the heart of Mbare speculation is rife that Ras Pompy will soon be releasing new music.

The Zimdancehall star is an artists who at just 13 years old in 2014, was the youngest artist in the industry. Some of Ras Pompy's most popular tracks include Nzira Dzevakoma which he sang with Spider Man (also called Mad Spider), Style and Pattern,Tochivharira, Change Giya and Tobhilivha na Most High. Pompy started off his career at Chill Spot Records under the guidance of top Zimdancehall producers, Arnold Kamudyariwa ("Fantan") and Rodger Kadzimwe ( "Levelz" ).

Ras Pompy's father died in 2001 when he was just a toddler and his mother, Alinetty Matimura, struggled to send him and his brother to school. However at 13, from the early successes of his music career Pompy was able to take care of the basic needs of his family.