ConnectHer Girls Impact the world Film Festival Video Contest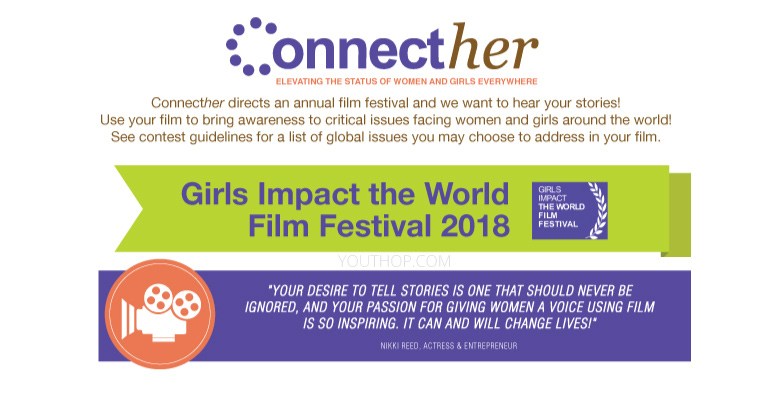 The Girls Impact the World Film Festival, presented by the Harvard College Social Innovation Collaborative (SIC) and Connecther, is a film festival and scholarship program in which high school and undergraduate college students submit 3-6 minute short films that focus on a variety of global women's issues, including maternal health, microfinance initiatives, child-marriage, sex-trafficking, poverty alleviation, etc.
Winners will receive a monetary prize and film distribution channels via Connecther. An official screening and red carpet will take place in Austin, TX in the spring of 2017.
Your films will tell stories about girls and women that raise awareness, envision in film the possibilities of our time for females globally, and propose solutions, all the while providing the young adult voice an outlet in a compelling medium.
Confirmed judges include Ian somerhalder, Christy Turlington Burns (founder of Every Mother Counts), Jeff Skoll (founder of Participant Media, responsible for films such as An Inconvenient Truth, Syriana, North Country, etc), Jean Oelwang (CEO of Virgin Unite), and Zainab Salbi (Founder of Women for Women International). To see our full list of judges, including two Nobel Laureates, please click here.
Films will:
(1) Raise awareness about current issues affecting women and girls around the world AND/OR (2) Propose solutions to current challenges faced by women
Green IS Applicants – See Here for More Info
These issues include:
Economic independence for women and girls
Education for girls and women
Ending child marriage
Ending FGM
Gender pay gap – equal pay
Global health for women and girls
Honest Beauty
Maternal mortality
Poverty affecting women and girls
Refugee Stories of women and girls
Sex trafficking and slavery of women and girls
Stand Up Men
Teen & child marriage
Violence against women
Women and girls in media
Women and girls in STEM
Women in business (leadership)
Women and the environment (including water issues)
Deadline: January 20, 2018.
For more information about how to apply click here.