The Global Ambassadors Program 2018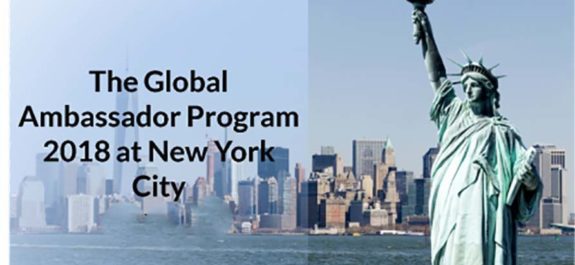 The Global Ambassadors Program (GAP) is designed for women entrepreneurs – providing mentorship, training and a network of support to help grow your business and your personal development. The program includes one-on-one mentoring sessions and strategic workshops focused on building organizational management, financial acumen, and leadership skills.
The program is a partnership between Vital Voices, a leading NGO in women's leadership and development and Bank of America, based on a shared belief in the need to invest in women who are creating economic and social progress around the world.
WORTH
One week in-person training program in New York City including:

Strategic Planning for Business Growth
Human Resource Management
Communications workshops including Branding & Marketing, Social Media and Public Speaking
Financial Management and Access to Capital

A 1:1 mentoring relationship with an established woman executive. Previous mentors include: Susan Chambers, Executive Vice President, Global People Division Wal-Mart Stores, Inc.; Deborah Dugan, Chief Executive Officer, RED and Donna Langley, Chairman, Universal Pictures
Inclusion in the Vital Voices network of more than 15,000 women from 181 countries and territories around the world
Opportunity for cross-cultural exchange with women from around the globe.
Participation in a half-day Global Forum, a thought leadership event and networking opportunity to engage with invited guests including business and community leaders
Opportunities for your business/organization to be profiled via digital channels, social media and in earned media coverage
On-going support and mentorship, specific to your needs, through the Global Ambassadors Program for 1+ year
ELIGIBILITY
A woman entrepreneur who owns a majority stake in a qualifying business is the key decision maker in the business and manages it on a day-to-day basis
A minimum of 10-20 years of experience in a professional setting
The applicant must have worked in her existing organization/enterprise for at least 5-7 years
Proficient in English
Demonstrate a commitment to the core principles of the "Vital Voices' Leadership Model" – Innovative, collaborative, and driven by a clear sense of mission; engaged in their communities and are committed to advancing the status of women and girls
Demonstrate high-potential for leadership and a desire to take on leadership roles both within and outside their companies
Business Criteria:

For-profit or social entrepreneur (for this program, a social enterprise is a for-profit business with a social mission)
Should have a minimum annual revenue of at least US$ 250,000 and a maximum annual revenue of US$ 10 million
The United States and all other countries (please note that for the US-based mentees, preference will be given to applicants from the New York metropolitan area)
DEADLINE: January 12, 2018
To apply and for more information visit here