UN Youth Volunteers M&E Program 2018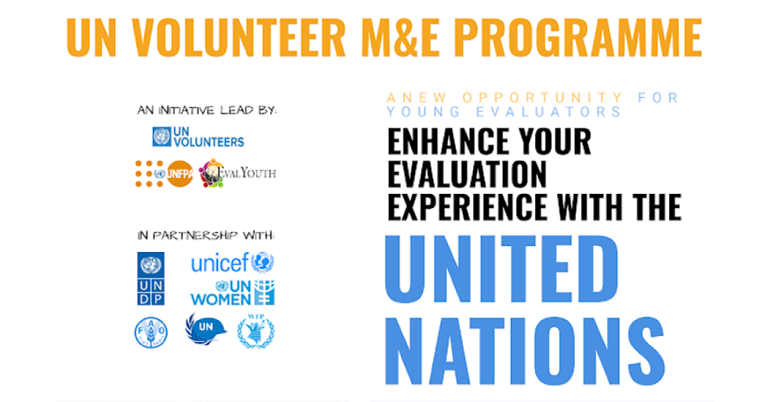 UNV, UNFPA and EvalYouth, in partnership with UNDP, UNICEF, UN Women, WFP, FAO and DPKO, are looking for talented young evaluators to serve the United Nations as UN Youth Volunteers.
UN Youth Volunteers, who receive a monthly living allowance and a benefits package, can be impactful resources to support monitoring and evaluation efforts. UN Volunteers can contribute to national SDG monitoring, evaluation and reporting; support monitoring and evaluation of UN Development Assistance Frameworks and Common Country Assessments; assist with innovative forms of data gathering; provide analysis and support communications efforts; contribute to the development of training programmes on monitoring and evaluation, including building capacities of national and local stakeholders; and engage local stakeholders and marginalized groups, particularly in deep-field and remote locations.
Benefits
The key benefit of being a UN Volunteer is the personal satisfaction the volunteer assignment brings you as you make a positive impact on peace and development.
UNV supports volunteers during your assignment in several ways, e.g. through a monthly volunteer living allowance, annual leave, and medical insurance.
Develop ability to work in a multi-cultural environment.
Develop ability to adjust to difficult living conditions.
Develop strong interpersonal and organizational skills.
Eligibilities
Applicants must be between 18-29 years of age.
Applicants must have university degree or higher technical diploma.
Have up to two years of relevant work experience
Be fluent in English or another working language of the United Nations (preferably French or Spanish)
Candidates must be committed to the values of the United Nations.
Applicants having some experience in monitoring and evaluation are encouraged to apply.
A UN Volunteer needs to demonstrate flexibility, adaptability, emotional stability, cultural sensitivity, as well as a positive attitude towards change.
Eligible Regions: Open for All.
APPLICATION PROCESS
Candidates need to register their profile through the given link.
Please note that after creating your account, you must complete all sections of your profile and submit it.
Select the special call to which you would like to apply.
Application Deadline: June 1, 2018
For more information visit here.