GreenHouse Capital 2018 Female-Focused Tech Accelerator Program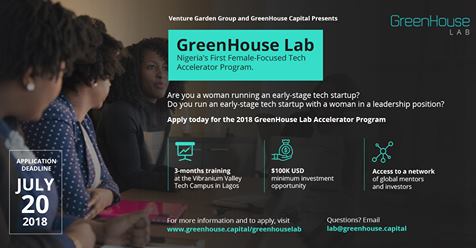 Venture Garden Group and GreenHouse Capital Open 2018 Application for the First Female-Focused Tech Accelerator Program in Nigeria.
GreenHouse Lab now accepting applications for 2018 Cohort Batch
2017 was a record-breaking year for African start-ups. According to research from Disrupt Africa, $195.1 million in venture capital funding was invested in African start-ups compared to $129.1 million in 2016 – an increase of 51%. With $63.3 million in startup investments in 2017, Nigeria was the top investment destination in Africa followed by South Africa and Kenya. As Nigeria continues to emerge as a technology hub, one thing is clear – women are missing on the playing field.
GreenHouse Lab features an intensive curriculum delivered in-person and virtually and leverages existing entrepreneurship education frameworks focused on a variety of key topics including, but not limited to, product development, market segmentation, human capital, marketing, and fundraising. Other channels of engagement include weekly lunch presentations, guest lectures, and office hours with the Entrepreneurs in Residence (EIRs).
The program is residential and will be hosted at Vibranium Valley – VGG's tech campus in Lagos. The accelerator ends with a demo day where companies get to pitch their businesses to a wide network of local and international investors. As a VC firm with a portfolio of companies, GreenHouse Capital will also invest a minimum of 100k USD in companies that qualify and reach specific milestones at the end of the program.
Requirements:
GreenHouse Lab seeks companies with the right team to build a successful company and as such, will select startups that are extremely passionate about their chosen vertical and demonstrate the necessary commitment to build the company of their dreams.
Each start-up must have at least one woman on their leadership team which should consist of at least two members and at least one technical member.
Beyond this, eligible companies must be early-stage, investment-ready tech startups that have identified a critical need in Africa and are building an effective, sustainable and scalable solution.
Each company must have developed, at a minimum, a beta-product and be in the process of refining their go-to-market strategy, building out sales channels and generating revenue.
The three-month accelerator begins in mid-August and ends in mid-November. Selected start-ups will be required to commit full-time to the program.
Application Deadline: July 20th 2018 https://goo.gl/TttBPu
For more information visit here.