International Student Conference on Global Citizenship 2019 in Indonesia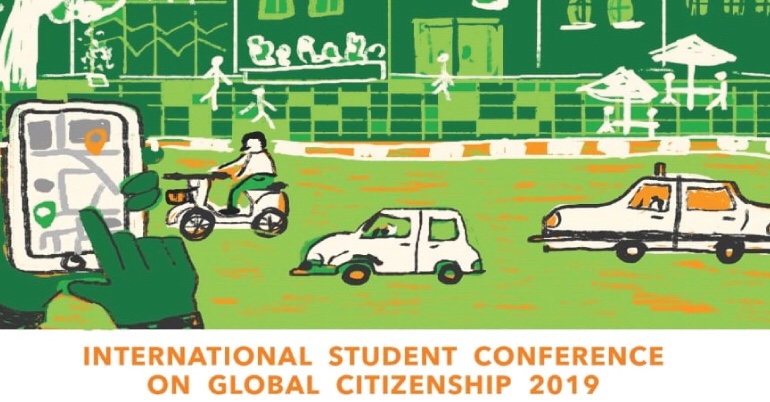 Parahyangan Catholic University (Unpar) is a University in Bandung, Indonesia. It drives its process of internationalization by organizing many international activities. International events conducted by Parahyangan Catholic University are actions dedicated for global community. Consequently, Parahyangan Catholic University has applied the concept of civic education or engagement from a national focus to a more global one.
Parahyangan Catholic University also has to realize that civic responsibility extends beyond national borders. This recent trend builds responsibility of Parahyangan Catholic University as an institution for higher education, to play a role to increase awareness of the youth to cope with global issues or global problems. This comprehension makes Parahyangan Catholic University considering that every people must be a global citizen. Therefore, Parahyangan Catholic University arranges an International Student Conference on Global Citizenship as an annual event.
Theme : Global Transportation and Mobility: Attempting for A Better Living
Recently the world is quickly developed. It happened because of advance growth of information and transportation, which have supported global economic expansion. In this era, sustainable transport and mobility have key parts to play in fostering inclusive growth, expanding access to essential mobility of goods & services.
Mobility involves more than traveling from one place to another as fast as possible using technology and transportation systems. Mobility is central to what it is to be human. It is a fundamental geographic facet of existence. Efficient and sustainable mobility can improve and boost the economy and quality of life of the community. Using renewable energy to support public and private transportation will support the existence of sustainable economic development. Good quality of transportation with low level of carbon emission, will conserve good quality of the air. Efficient public transportation system will encourage community members to decrease the intensive use of their personal vehicles. It will decrease fuels consumption. Efficient mobility in cities creates economic opportunities, enables trade, facilitates access to markets and services and makes efficient use of resources. As public transport forms the backbone of any efficient urban mobility system, adequate public transport provision helps make cities more dynamic and competitive as well as create more jobs. By considering those important roles of efficient transportation and mobility, it is clear that these issues must be examined intensively.
Location: Indonesia
Benefits
• The conference will result in some outputs such as broader perspective on link between transportation & mobility and its impact to economic & quality of life development, and high awareness to increase the involvement of everybody to promote a new lifestyle to use public transportation, in order to promote sustainable economic and social development.
• Along with this, for the admitted participants, the committee will provide:
• A pick up and drop off service (only at the designated schedule)
• 2 sharing based accommodation
• Entry tickets and participation fee of the compulsory site visits and cultural activities
• Inland transportation of the compulsory programs
• Meals (as it will be indicated at the schedule)
• Welcome and Closing Receptions (dinner)
• Certificate of Attendance and Certificate Supplement (indicating that all activities are equal as 3 credits academic activities. These documents will be granted only for Participants who participate fully in the whole program
Eligibilities
1. Bachelor degree students, at least from the 3rd semester; Master degree students and doctoral degree students from every study background,
2. Being supported to participate by the home university (proven by a Support Letter from any authority at the home university)
Eligible Regions: Open for All
APPLICATION PROCESS
Apply online through the given link.
Application Deadline: October 20, 2018