DFS Lab Bootcamp Application 2017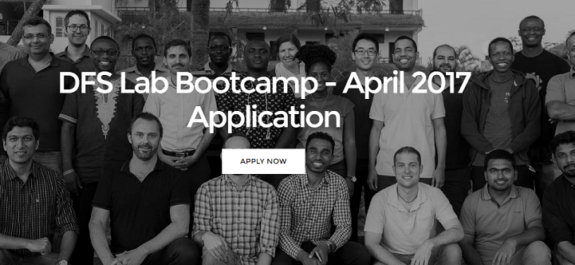 DFS Lab invites early-stage fintech entrepreneurs to join us from December 3-9, 2017 to work on the next generation of innovative digital financial products for Africa and South Asia. (Location TBD)
Our boot camp is an exciting week-long Design Sprint, a process of structured idealization and prototyping to answer critical business questions.
WORTH
Entrepreneurs will go through a workshop to design and test new fintech ideas where rapid prototyping and UI/UX mock-up support will be available on site.
Participating teams will create quick prototypes for representative customers and get actual feedback to see if there's real potential for their solutions.
ELIGIBILITY
We are looking for:
Small and nimble teams of world class entrepreneurs, engineers, product managers, or other brilliant people who want to build digital services for millions of users.
Deep expertise in fintech, payments, or retail finance and a strong desire to work in developing countries. You dream of creating financial products that serve the needs of billions of low income consumers in developing countries.
DEADLINE: Ongoing
To apply and for more information visit here