10 Professional Dressing Rules for Work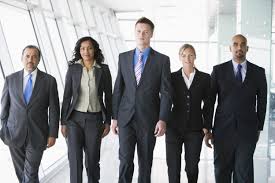 Part of professionalism in the workplace is dressing. From the time you get interviewed to starting a job, one is required to look. How you dress makes an impression on management and their perception of you. Even clients notice the way you dress and that can influence their purchasing power. Do you want to make a positive impression in the work environment? Try the 10 Professional Dressing Rules for Work.
1. If you tuck in your shirt, you should wear a belt.
2. The tip of your tie should reach your waist and cross it just a little.
3. Your belt should be the same color as your shoes.
4. Your socks should be long enough that your naked legs aren't seen when you are sitting.
5. Wear an office blouse that covers your shoulders or with a jacket on top.
6. When you are wearing a shirt or a blouse, you can unbutton no more than 2 buttons.
7. If you are wearing a shirt without a jacket, you don't need a tie.
8. When wearing smart casual make sure that naked skin isn't showing between your top and jeans.
9. Do not overdo the jewellery. Wear plain studs, necklace and bracelet other watch.
10. The middle button on a jacket should always be closed.