UNDP Communications Internship 2018 in USA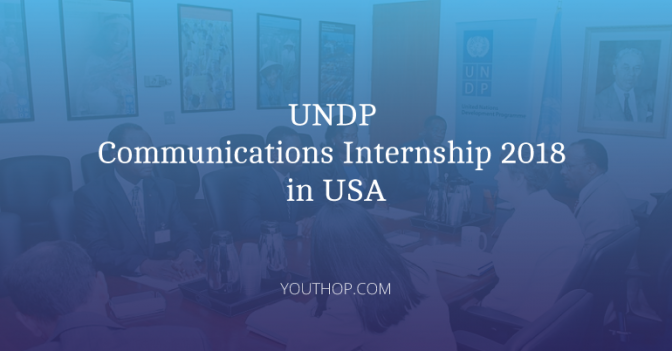 The UNDP Regional Bureau for Africa (RBA) team in New York is looking for a Communications intern to help them raise awareness of a book's key findings, launched by RBA named "Income Inequality Trends in sub-Saharan Africa", among targeted audiences and general public and may also help raising awareness of other RBA publications.
To assist the RBA Inequality Report team, the intern will
Contribute to the development of visual communications products and of multimedia products
Contribute to the development and implementation of a targeted social media campaign
Update and maintain the Inequality Report stakeholder contact lists and database
Maintain contacts of collaborating partners institutions
Track requests for information and feedback on various communication products
Support in monitoring the impact of various communication channels for the Inequality Report
Contribute to the development of strategy for digital marketing
Location: United States
Benefits
Check the official website for detailed benefits.
Eligibilities
Competencies:
Interpersonal Communication:
Speaks and writes English clearly and effectively
Listens to others, correctly interprets messages from others and responds appropriately
Asks questions to clarify, and exhibits interest in having two-way communication
Tailors language, tone, style and format to match the audience
Demonstrates openness in sharing information and keeping people informed
Teamwork:
Works collaboratively with colleagues to achieve organizational goals
Solicits input by genuinely valuing others' ideas and expertise; is willing to learn from others;
Places team agenda before personal agenda
Supports and acts in accordance with final group decision, even when such decisions may not entirely reflect own position
Shares credit for team accomplishments and accepts joint responsibility for team shortcomings
Creativity:
Actively seeks to improve programmes or services
Offers new and different options to solve problems or meet client needs
Promotes and persuades others to consider new ideas
Takes calculated risks on new and unusual ideas; things "outside the box"
Takes an interest in new ideas and new ways of doing thingsIs not bound by current thinking or traditional approaches
Marketing / Social Media Communication and IT
Knowledge of social media platforms and effective social media communication strategies
Ability to research and identify target audiences
Ability to assist with implementing messaging strategies
Knowledge of basic graphic design theory
Strong competency in graphic design and publishing software, such as Adobe Illustrator and InDesign
Knowledge of Microsoft Office
Required Skills and Experience
Education:
Be enrolled in a graduate school programme (second university degree or equivalent, or higher)
Be enrolled in the final academic year of a first university degree programme (minimum Bachelor's level or equivalent)
Have graduated with a university degree (as defined above) and, if selected, must start the internship within one-year of graduation
Advanced studies in Communications, Journalism, Design or Marketing, knowledge of gender issues or international development issues a plus
Experience:
Comparable work experience may substitute for education requirements;
Have demonstrated keen interest in the work of the United Nations and have a personal commitment to the ideals of the Charter
Have demonstrated ability to successfully interact with individuals of different cultural backgrounds and beliefs
Languages:
Fluency in oral and written English is required
Knowledge of French is an asset
Intern conditions:
Will work five days per week (35 hours)
UNDP internship programme does not provide a salary or remuneration for the internship
All the expenses connected with the internship will be borne by the intern, sponsoring Government or institution.
UNDP accepts no responsibility for costs arising from accidents and/or illness or death incurred during the internship
The intern is responsible for obtaining necessary visas and arranging travel to and from the duty station where the internship will be performed
Interns are not eligible to apply for, or be appointed to, any post in UNDP during the period of the internship
The intern must provide proof of enrollment in health insurance plan
Eligible Regions: Open for All
Application Deadline: 23 April 2018
For more information visit here.